First Successful Four-Way Paired Kidney Exchange in Florida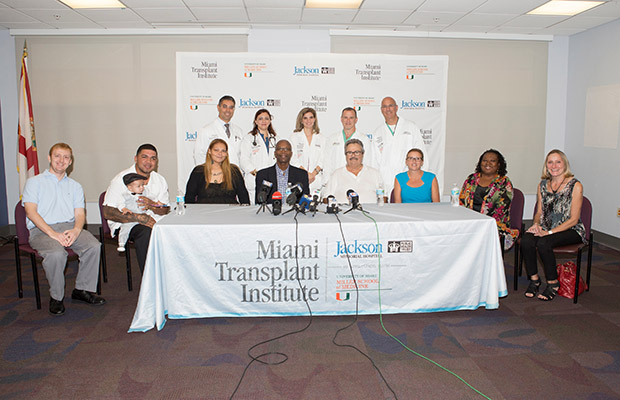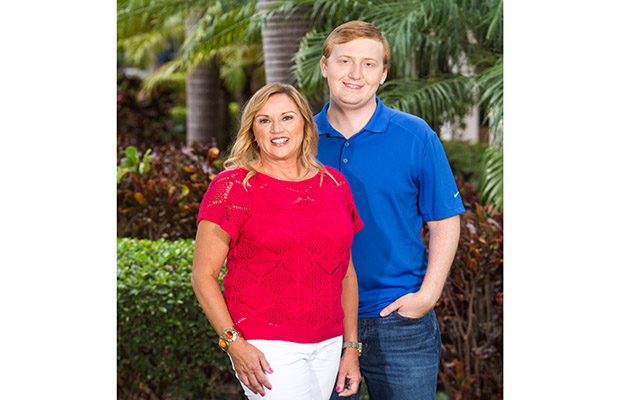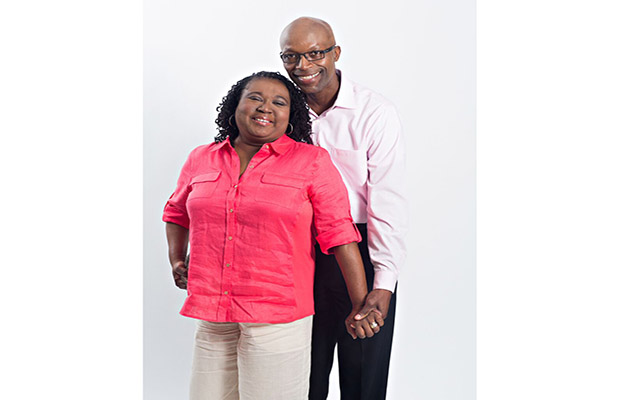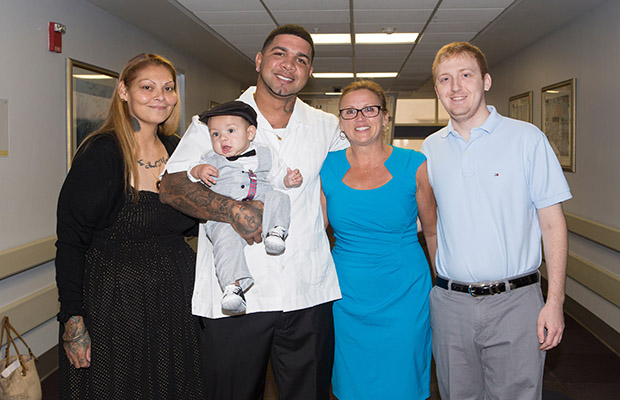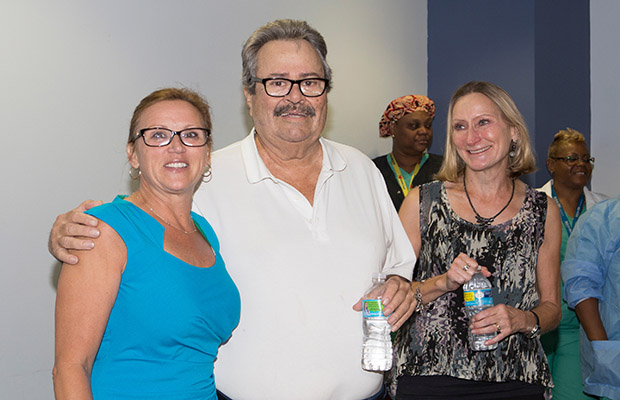 Physicians at the Miami Transplant Institute (MTI) at the UHealth/Jackson Memorial Medical Center are being hailed for setting yet another milestone by performing the first four-way paired kidney exchange transplant in Florida. The simultaneous surgeries on a single day in April, involving four living-donors and four grateful recipients, were made possible by MTI's nationally recognized Paired Kidney Exchange Program– the only one of its kind in the region.
"It is the heart and soul of the kidney program because it generates the best results," said Giselle Guerra, MD, medical director of the Living Donor Kidney Program at MTI. "The patients do not have to linger on a waiting list; and it lessens the amount of time a patient needs to be on dialysis because they can be transplanted at any point with a living donor."
The four pairs consisted of three married couples, and a mother and her son. During a press conference at Jackson Memorial Hospital, the donors and recipients met for the first time.
One of the recipients was 64-year-old John Russell who, for more than a decade, suffered from Transient Ischemic Attacks (TIAs), also known as "warning strokes". They were caused by a temporary decrease in blood supply to the brain. During a TIA related hospital visit in Chicago, his blood pressure was found to be dangerously high, which damaged his kidneys. After a few doctor visits, he was told it was only a matter of time before his kidneys ceased to function and that he would require dialysis. Eight years later, after having moved to South Florida, John found hope at MTI.
John's wife, Patricia was willing to donate, and was thankfully found to be a match. However, the couple signed up for the Paired Kidney Exchange Program after being informed that an even better match could be found. The program ultimately saved his life.
"The entire Jackson Health System team, including the MTI personnel and all Jackson Memorial staff were, and continue to be, incredible," said John. "They are professional, detail oriented, technically proficient, and extremely knowledgeable. I'm not even sure how to describe them except, as wonderful angels."
Patricia added, "The surgery and hospital care at Jackson Memorial was world class."
Bonnie Glover, 54, received the same type of unconditional love and support from her husband Craig. Best friends and married for 35 years, Craig was always there for his wife – actively supporting her drive to accomplish her professional and personal goals. When she got sick and was placed on dialysis, he sought help and came across the Paired Kidney Exchange Program.
"My primary motivations were to help her live a full, long, healthy life, that would allow her to be a part of our sons' lives for many, many years to come," Craig said. "As a bonus, I am also able to help someone whom I did not yet know to also receive the gift of life."
This selfless act turned Bonnie's life around.
"He is my best friend, my hero – he saved my life and someone else's too," Bonnie said. "I am so very blessed."
Marilyn Huggins, 36, began experiencing kidney failure in 2013. She had spent most of her days in bed, suffering from excruciating pain. After her diagnosis, she began dialysis and was placed on the waiting list in January 2014. It was then that Marilyn discovered the "kidney swap" program. She and her husband, Randy Martinez, signed up.
"My husband, Randy, is my angel. He didn't think twice," said Marilyn. "I am excited for the future. I can spend more time with my son and my family."
This was the second kidney transplant for 22-year-old Taylor Kroeger. At just 18 months old, Taylor received a kidney from his father. However, by the time he was 21, and a junior in college, his donated kidney was rapidly failing. His mother, Deanna, urgently looked for alternatives. They came to MTI where they learned about the exchange program. Although Deanna was not a match for her son, there was still a solution.
"This was perfect for us since I had planned on donating anyway," said Deanna Kroeger. "I loved the idea that I could help someone and my son would get a good match as well. They gave my son a chance at a healthy life again."
During this landmark four-way paired exchange, Patricia Russell donated a kidney to Bonnie Glover, Craig Glover donated a kidney to Marilyn Huggins; Randy Martinez donated a kidney to Taylor Kroeger, and Deanna Kroeger donated a kidney to John Russell.
The surgeries were done simultaneously over a 12-hour period. Dozens of doctors, nurses, and other medical professionals helped make the surgeries a success—and all of the patients are healthy, happy and feeling great.
To learn more about the Paired Kidney Exchange Program and Living Donor Kidney Program, click here.