State-of-the-Art Rehabilitation Facility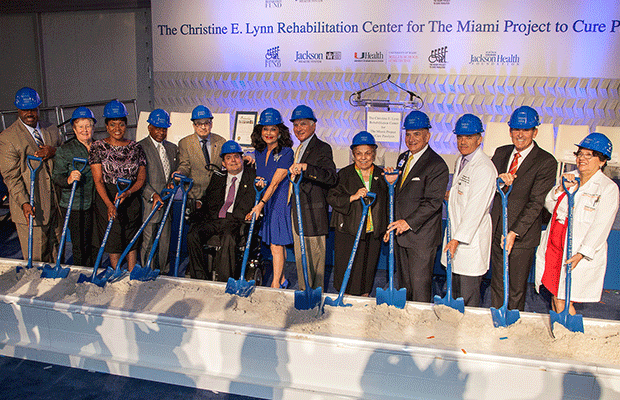 On our Jackson Memorial Medical Center campus near downtown Miami, we proudly broke ground in April for the new Christine E. Lynn Rehabilitation Center for The Miami Project to Cure Paralysis at UHealth/Jackson Memorial. Envisioned as a state-of-the art facility, the Christine E.  Lynn Rehab Center will replace Jackson's outdated rehabilitation hospital and combine our famous inpatient and outpatient care with the cutting-edge research being done by UHealth physicians and the legendary outreach and development of The Miami Project to Cure Paralysis. We believe this new facility will attract patients from across the globe and offer medical science's best hope at curing some forms of paralysis in our lifetimes.
The facility will be modeled after some of the nation's leading rehabilitation centers and will encompass comprehensive inpatient and outpatient rehabilitation services. The 100-bed, private-room facility will offer an exemplary inpatient experience for those dealing with some of the most challenging injuries. The Christine E. Lynn Rehabilitation Center will also allow proximity to the necessary rehabilitation that accompanies the multiple clinical trials for those dealing with life-altering spinal cord and brain injuries currently led by Miami Project researchers at the medical center.
Christine E. Lynn, whose generous donation of $25 million helped spearhead the fundraising for the center, was on hand to ceremonially break ground on the rehabilitation building. The remaining funds to build the new rehab center will come from a designated portion of the $830 million general obligation bond overwhelmingly supported by Miami-Dade voters in 2013 to upgrade Jackson's infrastructure and build new facilities.