Wedding at Jackson Memorial Hospital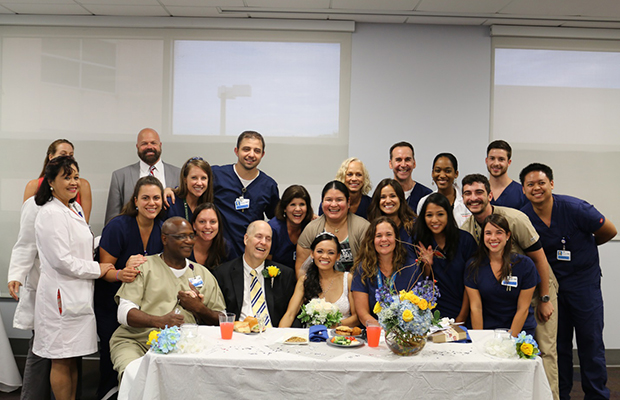 It was a chance meeting on a street in Indonesia when James Brown and Eva Meiningsih saw each other for the first time in 2007. He was there working as a consultant for a furniture business, and she was a local street vendor selling clothes. The two hit it off immediately and, within six months, they were engaged to be married.
Four years later, the couple moved to Honduras so James, a longtime furniture industry executive, could open and run a furniture factory. The couple was happy and enjoyed their life in Central America. But they put their wedding plans on hold because they wanted to marry in the United States, where James was born and raised.
Tragedy struck in late April of this year when James became ill with flu-like symptoms – chills, a fever, an earache. Eva came home one day to find James unconscious in the shower, his face partially submerged. He was rushed to a local hospital in Honduras, where he remained in a coma. Doctors ran a series of tests and diagnosed him with meningitis, a life-threatening disease that is caused by the inflammation of brain and spinal cord membranes.
Knowing the severity of James' condition, Eva desperately wanted to have her fiancé moved to a hospital in the United States. The couple had previously discussed what they'd do in case they were faced with a medical emergency abroad, and agreed that their first choice of hospitals would be Jackson Memorial in Miami.  Eva worked with Jackson International, which coordinates the transfer of patients in other countries who are in need of expert treatment for complex medical and surgical care.
On May 5, James – who was just coming out of his coma – was flown via air ambulance to Miami. He was brought to the neurosurgical intensive care unit at Jackson Memorial Hospital, extremely ill with a fever as high as 107 degrees, and a cyst in his brain. He recovered enough to be transferred out of ICU and was moved to the neuro-rehabilitation unit at Ryder Trauma Center.
During the last two months, the medical team at Jackson, including physicians, nurses, and rehabilitation therapists, has been helping James in his continuing journey to recovery. He works daily with a team of therapists from Jackson Rehabilitation Hospital who are helping him regain his strength, and teach him to walk again.
Throughout the ordeal, Eva has remained by his side. Not wanting to wait any longer, the couple decided to tie the knot at the place that saved James' life – Jackson Memorial Hospital.
Kelly Messett, a recreation therapist from Jackson Rehabilitation Hospital who has been working with James, took the couple to the Miami-Dade County Courthouse to obtain a marriage license. On Wednesday, July 15, they tied the knot in a ceremony at Jackson Memorial.
Hospital employees transformed a conference room into a chapel and reception area for the wedding. James surprised his new bride by singing "The Wedding Song (There is Love)" and thanked the hospital during an emotional toast.
"Every day is a miracle," he said. "The team here is great. We owe everything to them."
James will continue his recovery at Jackson and plans on returning home to Honduras in August.
To read more of our Nothing Random About Our Kindness employee features celebrating Random Acts of Kindness Week, click here.