An organ donor saved my life.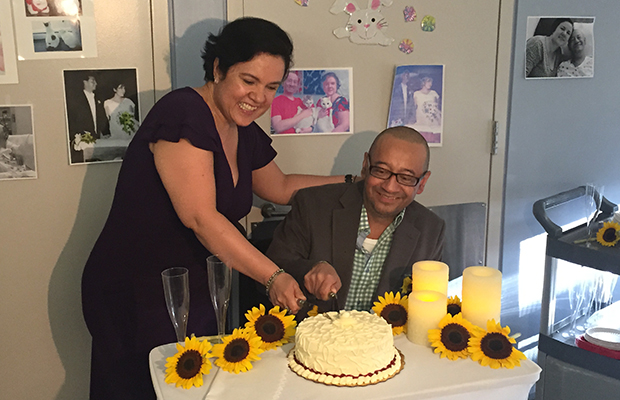 It was an arduous journey that spanned more than a decade. For Jose Martin Monroy, it began with debilitating pain and a diagnosis of a heart problem. It would lead to numerous visits to the hospital. But with his beloved wife Martha Camargo by his side, his spirits never grew weary. Now Monroy has a rejuvenated perspective of life and a "new heart."
The couple was living in Puerto Rico in 2003, when Jose started experiencing strong stomach pain, indigestion, and an irritating cough that just wouldn't go away. A series of diagnostic tests determined he had a dilated cardiomyopathy—the cardiac muscle disorder that causes an enlargement of the heart.
Physicians began aggressive treatment to "reprogram" his heart while treating the symptoms of this degenerative disease. Jose's treatment continued for almost two years, but the results from radiography still told a shocking story. His heart was so abnormally large; he would require alternative treatments to sustain his life.
"I consider myself very positive and I was able to control my stress," Jose said. "I never got to that dark point."
But Jose's condition required specialized care—care he wasn't able to receive in Puerto Rico.
In 2005, Jose and his wife left the life they'd known on the island and traveled to Miami in hopes of finding a cure at Jackson Memorial Hospital.
Jose underwent aggressive treatments, including a strict diet regime, a stem cell transplant, inotropic therapies, and the implantation of an automatic implantable cardioverter defibrillator (AICD), a small device inside the chest that sends electrical pulses to the heart when it senses irregularities in heartbeat. But his symptoms persisted – fatigue, fluid retention, chest pressure, and dizziness.
In December 2012, Jose contracted pneumonia, and the team from the Miami Transplant Institute (MTI), a joint program between Jackson Health System and UHealth—University of Miami Health System, determined that he needed a heart transplant. He was put on the waiting list in August 2013, while he received intensive care at home.
Finally, on February 23, 2015—just five days before his 48th birthday, Jose received the call he'd been waiting for a—donor heart was available.
The risks of his operation were high due to the complexity of the procedure, especially considering the right ventricle of his heart had begun to fail.
"I was with him the whole way through, providing positive reinforcement whenever I could," said his wife, Martha. "I even told the staff to not give up because we had not given up."
Jose was a warrior throughout the eight-hour surgery.
He has since improved from his complicated pre and post-operative course. This was followed by a lengthy recovery at Jackson Rehabilitation Hospital, where he received physical and occupational therapy. He is starting to walk again and is slowly regaining flexibility in his muscles, arms, and legs.
Jose is very grateful for his second chance.
"I value things more, including the little things, such as being able to walk," he said. "An organ donor saved my life—so I thought, why not pass along that gift of life?"
Now Jose Martin Monroy is using his experiences to educate and comfort others who are dealing with heart failure. And to show his wife how much he loves and appreciates her, Jose recently proposed to her for a second time—this time, he says, with his "new heart."