Coping with a Loved One who has Alzheimer's Disease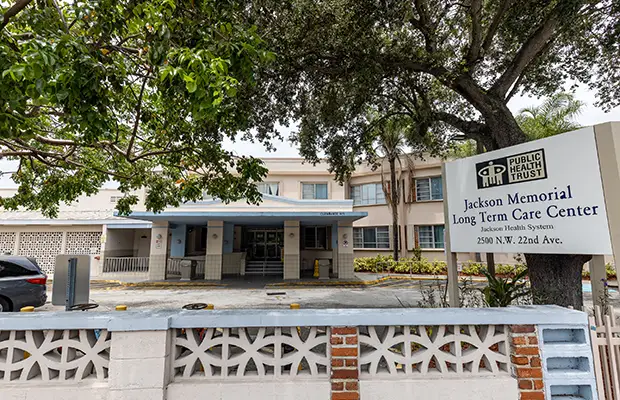 By: Maria Flores, advanced practice registered nurse at Jackson Memorial Long-Term Care Center
More than six million people are living with Alzheimer's disease in the United States. By 2050, this number is projected to rise to nearly 13 million. Older Black Americans are about twice as likely to be diagnosed with the disease and other forms of dementia compared to their older white counterparts, and almost two-thirds of Americans with Alzheimer's are women.
Loved ones are just as affected by the condition, especially since more than 11 million Americans provide unpaid care for people with Alzheimer's or other forms of dementia – with 83 percent of these caregivers being friends and family.
Caring for someone with Alzheimer's and witnessing the progression of the disease can be painful. As an advanced practice registered nurse at Jackson Memorial Long-Term Care Center, I've witnessed many families struggling with how to cope and care for their loved ones.
As we recognize Alzheimer's Awareness Month and National Family Caregivers Month, here are some tips and words of encouragement for families affected by Alzheimer's and dementia.
1. Get educated about the disease and what to expect.
Alzheimer's is a long, challenging disease that progresses over time. While medication can help slow its progression, there is currently no cure. It's important to understand what to expect and get guidance on how best to keep your loved one safe.
As the disease progresses, a person with Alzheimer's will require a greater level of care. Damage to nerve cells in the brain can also make it difficult for the person to express thoughts and perform routine tasks without assistance. They tend to remember information and events from the past but struggle to remember details that are more recent.
Be sure to have regular conversations with your loved one's doctors, medical team, and others caring for them to ensure the right steps are taken at the right time to keep them safe.
2. Be patient, positive, and supportive.
Some people with Alzheimer's become angry, lash out verbally, experience severe mood changes, and become suspicious of those around them. It can be frustrating to constantly repeat yourself, deal with your loved one's challenging mood changes, and witness someone you love transform so drastically.
When talking to someone with Alzheimer's and/or dementia, your tone of voice is just as important as your words. Refrain from using phrases such as, "Did you forget?" or, "How could you not know who I am?" Instead, if you notice they have forgotten who you are or something you told them, use a positive, reassuring, and supportive tone to reshare the information.
3. Make new memories together.
While the person you once knew may change over time due to the disease, remember that they are still here. While they may not be able to do things they once did or remember special things you once shared, you can find new ways to spend time together and make memories. Take them for short rides, visit them often, share memories, stories, and photos, and try to do new activities together. This can be a simple craft or watching a television show.
The best way to show your love and support is to be there for them, no matter how they are or what they can do.
4. Don't take the bad days personally.
When dealing with Alzheimer's, there will be challenging days. It's important not to take these mood changes and bad days personally. Remind yourself that it all stems from the disease.
5. Find Support
Alzheimer's is just as challenging for those who love and care for a person as it is for the person with the disease. There are trying days, difficult decisions to make, and it can be emotionally draining to watch the disease take over someone you love.
There are resources to help families connect with others going through similar situations and challenges. Connecting with others can make you feel less alone and help you learn from shared experiences.
Do not hesitate to talk to the nurses, doctors, and other medical professionals caring for your loved one. Remember, we have seen similar cases and can provide guidance, support, and suggestions to help your family.
If you need help getting started finding support, here are two great resources:
Alzheimer's Association, https://www.alz.org/ (where you can find info and your local chapter). Or access their 24/7 helpline at 800-272-3900
ALZConnected®, a free online community and message boards for everyone affected by Alzheimer's or dementia.
Maria Flores is an advanced practice registered nurse at Jackson Memorial Long-Term Care Center.