Distinguishing Race from Biology in Kidney Transplant Outcomes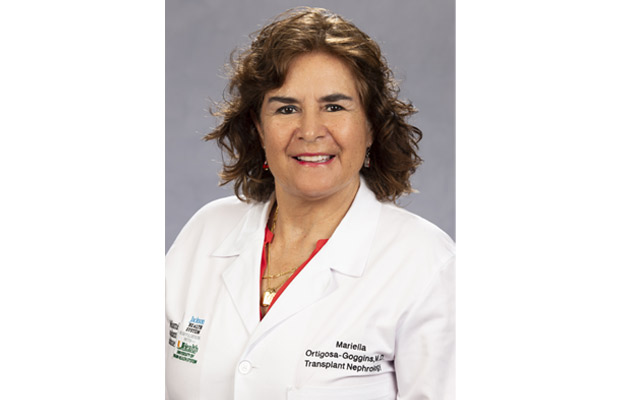 By: Dr. Mariella Ortigosa-Goggins
For the past several years, there has been a lot of attention directed toward ensuring diversity, equity, and inclusion in industries across the United States, including in the accessing and delivery of equitable health care. As an example, while African Americans are at a much higher risk of being diagnosed with kidney disease, the community continues to face several disparities when attempting to access organ transplantation services.
In order to better address this matter, the authors of this editorial are involved in a national research program called the APOLLO ("APOL1-Long-term Kidney Transplantation Outcomes") study.  According to the study's website, APOLLO is a national observational study that tests kidney donors and kidney transplant recipients for variants or forms of the apolipoprotein L1 gene (called APOL1) to determine if these variants impact kidney transplant outcomes. APOL1 is a genetic mutation that arose in Africa over the past 10,000 years as a means of providing immunity against the parasite transmitted by the tsetse fly, which causes sleeping sickness.
APOL1 has two "kidney risk" variants, both found almost exclusively in those of West African descent, including African Americans, African-Caribbeans, and Afro-Latinos. In the U.S., 39 percent of African Americans have one APOL1 kidney risk variant, and approximately 13 percent have both variants.
Those who possess two copies of APOL1 kidney risk variants have a greater chance of developing kidney disease. In fact, this phenomenon is responsible for much of the excess risk for kidney disease in the African American population when compared to other racial groups. However, only 15 to 20 percent of people with two APOL1 kidney risk variants will develop kidney disease, and 80 percent never do.
In the practice of kidney transplantation, donor organs are graded for quality using a scoring system that includes race as a factor for kidney quality, with organs coming from the Black community at a higher risk of being measured aslower quality. Because race is a social construct, this practice may lead to overestimating the risk in some organs, and in turn, lead to healthy organs being discarded. This can then lead to missed transplant opportunities for patients in need.
The APOLLO study is focused on kidney transplants from living and deceased African American donors. It is a National Institute of Health-funded collaboration of 13 clinical centers, encompassing 143 of the 256 academic and community kidney transplant programs, 52 of the 57 organ procurement organizations, and 64 tissue-typing laboratories in the United States.
The main goal of the study is to determine if the APOL1 kidney risk variants affect the success rate of kidney transplant recipients who receive kidneys from Black donors. It will also determine if having APOL1 kidney risk variants affects the long-term health of Black living kidney donors.
Over the last five years, APOLLO has recruited nearly 4,000 deceased donor kidneys and 2,700 recipients of those kidneys, plus more than 250 living kidney donors and more than 230 recipients of those kidneys. Phase I is now complete, as the study has reached and exceeded its recruitment goal.  Phase II will focus on gathering more data from the current cohort of enrolled participants, although some centers may continue to recruit additional living donors only.
A unique and critically important feature of the APOLLO study is their vibrant Community Advisory Council (CAC). The CAC is made up of more than 20 African American kidney transplant recipients, living donors, and a deceased donor family member. The CAC has been closely involved in every aspect of the study since its inception, guiding the structure of the program, helping to frame important clinical questions, and advising the scientific transplant community on how best to recruit and retain patients to create valuable scientific output that will benefit the Black community.
A study as large and complex as APOLLO has not been done before in kidney transplantation. Through the data found in the study, it is hoped that a greater understanding will be gained with respect to how the APOL1 risk variants affect kidney transplant outcomes, how best to use all donor kidneys, and how best to select and protect African American living donors who wish to make the gift of life. Only through this knowledge can equitable access to kidney transplantation be assured for the African American community.
If you are interested in learning more about the APOLLO Network, visit their website at https://theapollonetwork.org/.
Dr. Mariella Ortigosa-Goggins is the director of kidney/pancreas transplant at the Miami Transplant Institute, a unique collaboration between Jackson Health System and UHealth – University of Miami Health System, as well as senior staff physician in the Department of Internal Medicine's Division of Nephrology and Hypertension at the University of Miami Miller School of Medicine.  In addition, Dr. Ortigosa-Goggins is a clinical associate professor