Eating Mindfully During the Holidays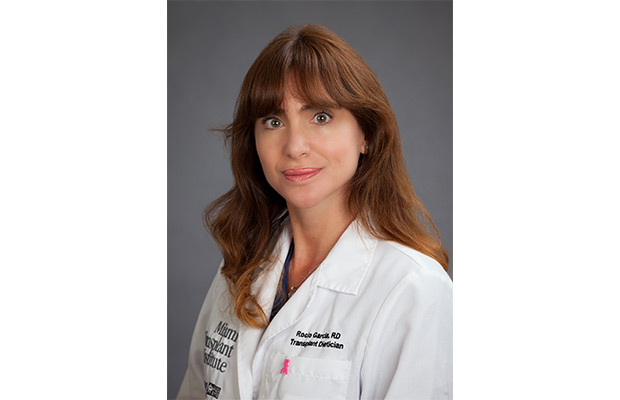 It's the most wonderful time of the year, when we gather to celebrate the holidays with parties and a lot of decadent food and drinks.
While it's nice to indulge, it can be challenging to maintain healthy eating habits during end-of- year celebrations. The hustle-and-bustle of the season and additional stress can make it  hard to stick to  healthy patterns.
Rocio M. Garcia, RD, LD/N, CNSC, CCTD, a dietitian at Jackson Health System, helps patients develop mindful eating habits. Garcia works with children and adults with a variety of challenges, nutritional needs, and complex medical histories, and helps them balance healthy eating while still enjoying their favorite foods.
What is mindful eating?
Mindful eating is about eating the foods you crave while also maintaining a healthy lifestyle that meets your nutritional needs. It's not about restrictions or rules. You take the time to enjoy the food you enjoy or are craving, without any negative feelings of shame or guilt. You make an intentional choice about when and how to consume certain  foods or drinks in moderation.
Often when we try to avoid a craving or substitute a food we are craving with something else, we wind up making an unhealthy choice anyway. For example, if you are craving a cookie and try to deny the craving and eat an apple, it does not make the craving for the cookie disappear. People will most likely still come back for the cookie, or something else after the apple. By that point, the craving is stronger, so they overindulge and eat two or more cookies.
I encourage everyone to remove the word 'diet' from their vocabulary. Instead, think about making intentional food choices that align with your needs and goals. Enjoy the foods you are craving, but focus on portion control and eating them in moderation.
What are some tips to help people eat mindfully during the holidays?
1) If you are going to a potluck or friend's house for a  get-together, bring something healthy. This way, you can enjoy some special foods, but also have something nutritious to put on your plate.
2) Serve yourself food on a small plate. When using a large plate, you run the risk of overeating. Also, do not stand by a buffet table and eat off platters and charcuterie boards. Eating off large platters makes it much harder to maintain portion control.
3) Enjoy special foods, especially if you generally only have them this time of year. Don't feel guilty about it!
4) If you crave certain foods that are hard to resist, don't keep them in your home. Removing the temptation is a lot easier than trying to resist it. Enjoy those foods when you are out or buy them in small quantities.
5) Be mindful of drinking too many calories. Alcohol, punch, eggnog, and other drinks can be high in calories and sugar, and we can consume more because we are drinking instead of eating them.
What common traits have you noticed among patients who successfully reach their nutrition goals?
The number one contributing factor that I've noticed, aside from someone having a goal they care about, is support. It can be challenging to change your eating habits if the people you live with and/or spend a lot of time with are eating very differently. It can be done, but it will make the process much harder.
I encourage families to work together to find healthy meals they like, be active together, and encourage each other. Make it a family affair, and everyone will benefit.
Any other recommendations to help people manage their health during the holidays?
Remember, nutrition is just one piece of the puzzle. Focus on other healthy habits, too. For example, take your medications as prescribed, drink a lot of water, and stay active. Maintain your health and fitness routines as much as possible. They don't need to be perfect, but every little bit helps.
Following these basic habits also helps you manage your stress, which can increase when life gets busy. A walk, a few moments  of meditation every morning and/or night, having a gratitude practice, all these things can make a huge difference in your health and how you feel.
When life is busy and your schedule is packed like it often is during the holiday season, that's when we need these habits most. Carve out at least a few minutes each day to take care of yourself. These habits can help you manage stress, make intentional choices, and keep you grounded while allowing you to enjoy time with your loved ones.
Rocio Garcia, RD, LD/N, is a clinical transplant dietician at The Miami Transplant Institute at the University of Miami/Jackson Memorial Medical Center.