Romualdo Segurola, MD
General Surgery, Surgical Critical Care, Thoracic and Cardiac Surgery
Spanish - English
JACKSON MEDICAL GROUP
About
Dr. Segurola joined Jackson Health System as a Jackson Medical Group physician in April 2019. He is named chief of cardiac surgery for Jackson Health System, medical director for Jackson Heart Institute, and medical director for cardiothoracic surgery for Jackson North Medical Center and Jackson South Medical Center. He is leading the new Jackson Heart Institute, which brings together two of the most trusted names in the community to form Miami's most comprehensive heart team.
Meet Dr. Romualdo Segurola
Chief of Cardiac Surgery
Chief of Cardiac Surgery, Dr. Romualdo Segurola, discusses the Jackson Health System difference and how they are at the cutting edge of heart procedures and programs. Minimally invasive heart surgery makes for faster recovery times for each patient. Learn more about Dr. Segurola's work.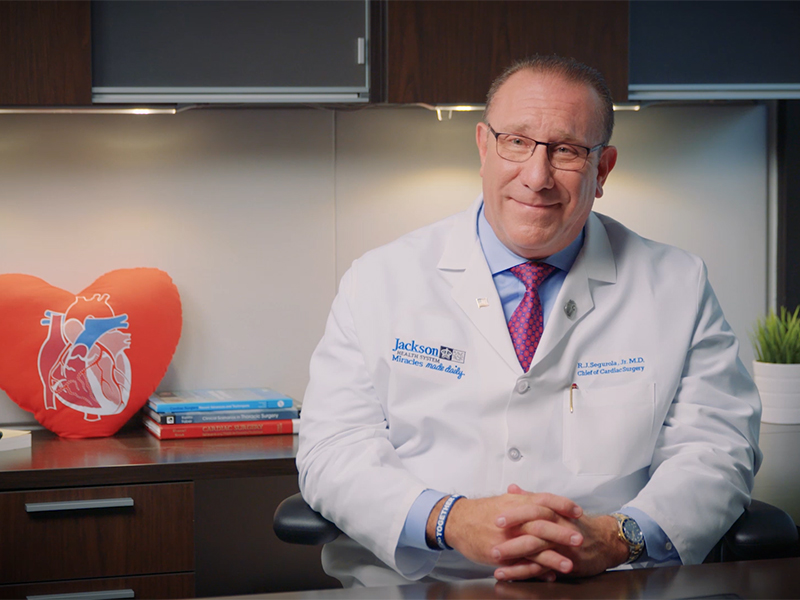 Specialties
General Surgery
Surgical Critical Care
Thoracic and Cardiac Surgery
Area of Interest
Atrial Fibrillation (A Fib) Surgery
Coronary Artery Bypass
Minimally invasive lung surgery
Mitral Clip
Education
Medical Education: Univer Nacional Pedro Henriquez Urena
Internship: St. Mary`s Hospital
Residency: Maimonides Medical Center
Fellowship: Yale University School of Medicine
Board Certification
General Surgery
Surgical Critical Care
Thoracic and Cardiac Surgery
Location
Jackson Heart Institute - Health District
1801 N.W. 9th Ave., Miami, FL 33136

Hours

Tuesday

9:00 AM - 5:30 PM

Wednesday

9:00 AM - 5:30 PM

Thursday

9:00 AM - 5:30 PM