Home for the Holidays with Devine and Antonia Culmer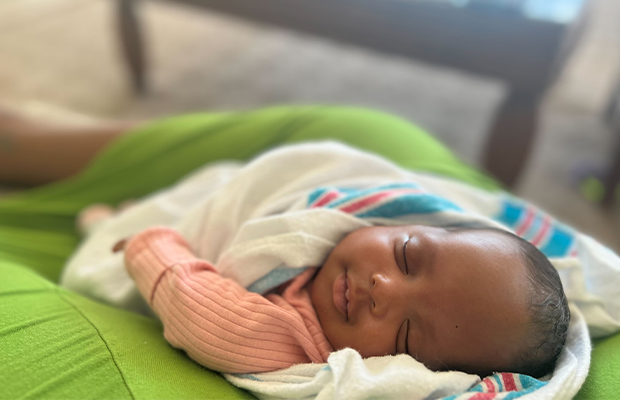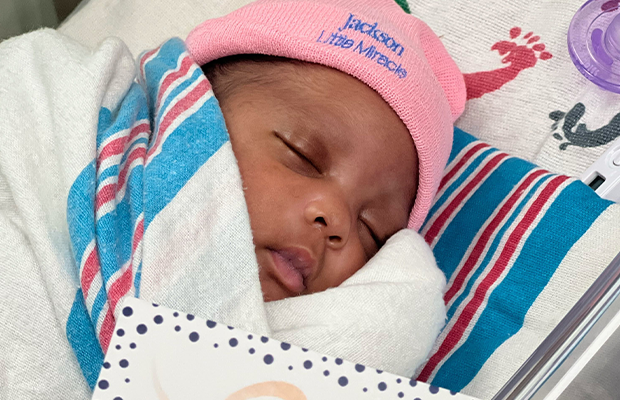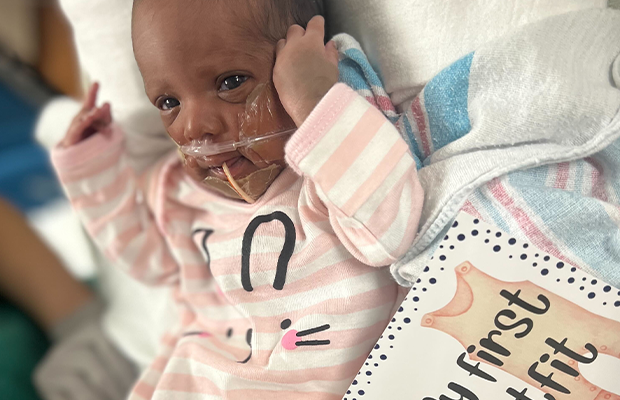 Antonia Culmer, a native Bahamian, struggled with fertility for years.
As an aunt and godmother to several nieces and nephews, Culmer was finally able to conceive a baby girl of her own who she appropriately wanted to name Devine.
"My baby is my divine intervention," she said. "God planned her for me."
Culmer intended to receive her prenatal care in the Bahamas and deliver at The Women's Hospital at Jackson Memorial. Unfortunately, the beginning of her pregnancy proved to be a challenge. After two months, she began to experience complications. Culmer developed blood clots, which caused a pulmonary embolism.
She was treated for the embolism at another local hospital in Miami. Due to the nature of her pregnancy, and the potential of developing more blood clots, Culmer had to stay in Miami for two months until she was cleared to fly home.
At 24 weeks, she visited her OB-GYN in the Bahamas for a routine check-up. During the exam, Culmer received surprising news – she was 2 centimeters dilated and in labor. Because she planned to deliver Devine at The Women's Hospital, she was airlifted back to Miami.
Two weeks later, Culmer's water still had not broken. While she was out of her comfort zone and away from her loved ones, she found peace with the help of her care team, whom she nicknamed "the seventh-floor angels."
"When patients are airlifted in from another country, they often feel like they're missing something. They don't have their family, friends, belongings, et cetera," says Sherri Lytle, CSN, RN, clinical staff nurse at The Women's Hospital. "In the middle of the night, which is when I work, my job is to provide those creature comforts.
Nurses like me work to simulate home, and show these moms that we're not just taking care of their baby, we are also taking care of them."
On September 19, Culmer was celebrating her 38th birthday with her caregivers and loved ones when she suddenly began to experience pains that she thought were contractions. By the time her nurses were called into the room, Culmer's water had broken and she was told that her baby would be born within minutes.
"I said a prayer and two minutes later, Devine was born," Culmer said. "I didn't even have time to push; she just made her grand entrance on my birthday. It all happened so fast."
Since Culmer had delivered at just 27 weeks, she expected to be in the hospital for several months. However, Devine developed quickly in Holtz Children's Hospital's neonatal intensive care unit.
"Devine was a very good premature baby," said Marta Galarza, MD, IBCLC, FAAP, a neonatologist at Holtz Children's Hospital. "She didn't require a lot of interventions for complications most premature babies have. She was able to breathe on her own very well."
On November 22, Culmer received the news that Devine was ready to go home, just in time for the holidays.
"Staying in the NICU for an extended time is very scary and overwhelming. These doctors and nurses were so good at communicating and educating me," said Culmer of her time at Holtz Children's.
"I am beyond grateful to them for answering my questions and providing guidance. I had such a wonderful experience thanks to their support and education."
Devine has adjusted to life in the Bahamas, and is getting stronger every day. As for Culmer, she's excited to celebrate the holiday season with her healthy daughter.
"I've always wanted to establish family traditions with my child for Christmas," she said. This year, I'm going to stitch our names on stockings, so Devine can always have them, and treasure our bond."