On Nurses Day, Jackson Health System celebrates all its nursing teams for their resilience and hard work. We are also highlighting stories of nurses who have provided expert and compassionate care in situations that extend beyond their day-to-day duties.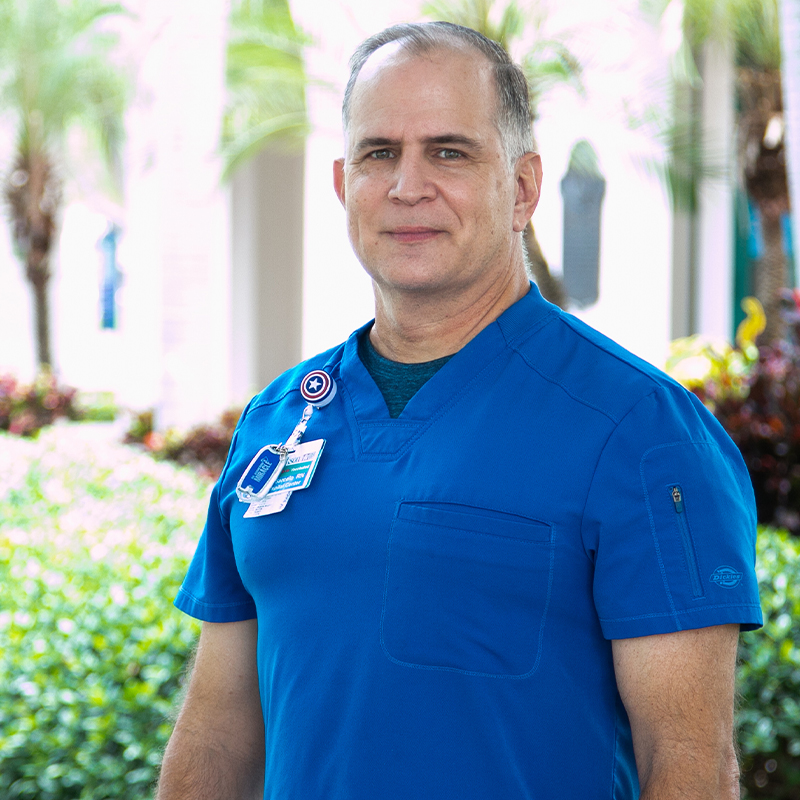 Fernando Barcelo
As Fernando Barcelo, a clinical staff nurse in Jackson Memorial Hospital's coronary care unit, was walking to his car after a 12-hour shift one day, he noticed that someone by the North Garage's entrance was frantically waving for help.
He quickly rushed over to their vehicle, where the driver told him she needed to get her passenger, who was pregnant, to The Women's Hospital at Jackson Memorial.
Without hesitation, Barcelo asked them to unlock the car, so he could get in and guide them where to go. When they arrived at the hospital entrance, he told the driver where to park and helped the pregnant woman out of the car and to the front desk. They were then directed to the labor and delivery unit.
When Barcelo and the patient arrived at the unit, the staff quickly moved her into a room. Barcelo waited near the elevators until the driver arrived, and introduced her to the patient's nurse. He felt relieved knowing that the expecting mother was in the right hands.
"As a nurse, I knew I couldn't have gone home that day without helping them," Barcelo said. "I'm happy I was in the right place at the right time."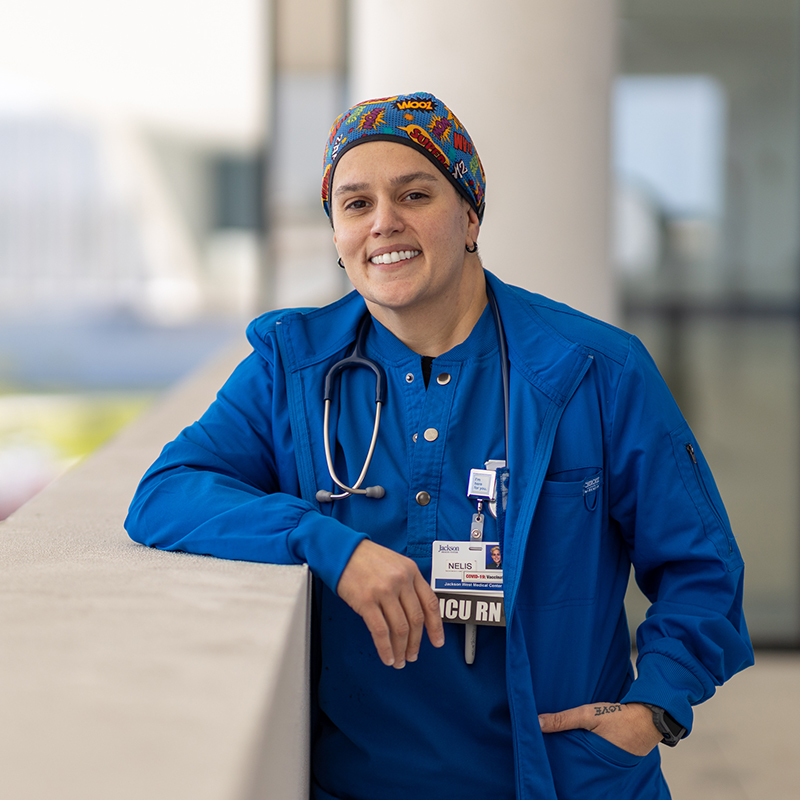 Yaneli Perez
When Yaneli Perez, RN, a clinical staff nurse at Jackson West Medical Center, began her rotation in the hospital's intensive care unit (ICU) the fall of 2021, she remembered the promise she made after her father successfully recovered from COVID-19 – to provide her patients with the same level of exceptional care that helped her father make his way back home.
Perez got that opportunity in November 2021 when her first ICU patient was a 33-year-old COVID-positive father of two. The patient, who was previously intubated, was still having trouble breathing, so he required a tracheostomy. When the trach was placed on the patient, Perez noticed his demeanor changed. He appeared to have given up, and his condition began to worsen. His medical team began to fear that he was not going to survive.
Throughout her time in the ICU, Perez formed a bond with the patient and his family, making a point to speak with the patient often even though he couldn't respond. On a whim, Perez decided to sit down with him and drew a diagram of the trach. She explained that this was only a temporary solution.
"I know how hard it is to have a loved one fighting for their life in the ICU," Perez said. "Being able to help my patient get better and get back to his family is why I became an ICU nurse."
This brief conversation helped uplift the patient and turned his recovery around. Perez continued to follow his progress until he was ultimately discharged.
"Yaneli embodies the spirit of our miracle experience," said Eddie Borrego, Jackson West's senior vice president and CEO. "Our caregivers are not only committed to treating a patient's diagnosis, they're also committed to making a difference in their lives. Yaneli did just that."