Jackson West Gives a COVID-19 Patient a Second Chance at Life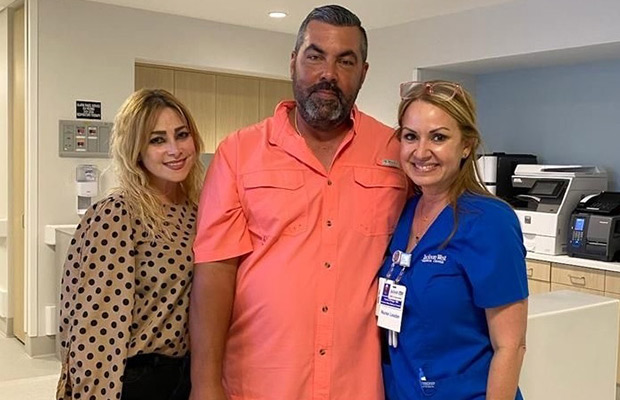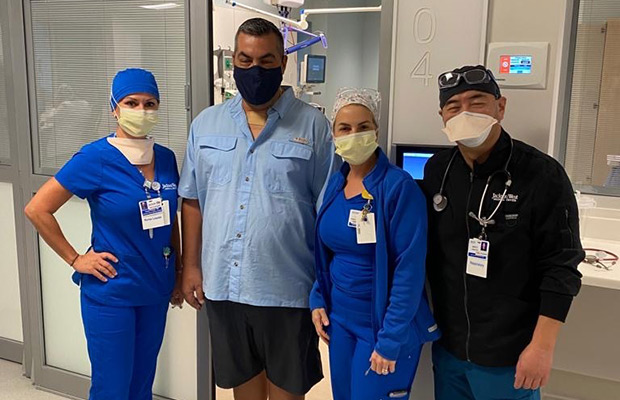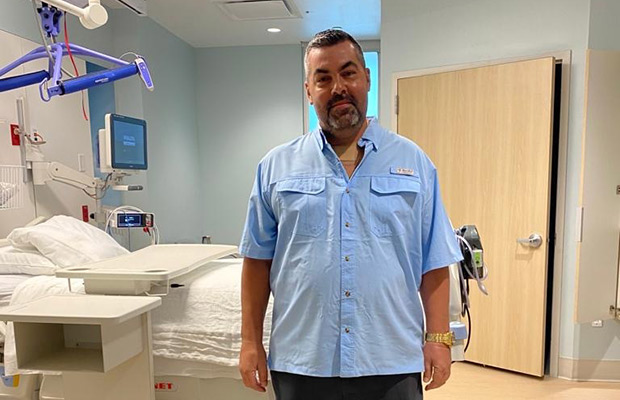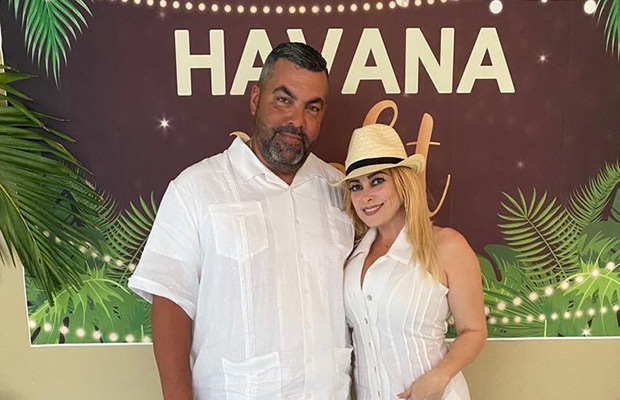 Jackson West Medical Center opened its doors on August 2, 2021. Jesse Muino, then 47, was one of the first patients to enter Jackson West's José Milton Memorial Hospital.
On July 31, 2021, Jesse Muino tested positive for COVID-19 and pneumonia. Unvaccinated and immunocompromised, his condition quickly worsened while at home. Three days after his initial diagnosis, he asked his wife, Midialys Muino, to call an ambulance.
"When I arrived at José Milton Memorial's emergency department, I saw that the hospital was unlike any other place I've ever been before," Jesse Muino said. "I knew I was in the right hands."
He hoped to receive antibodies and then spend a couple of days in the hospital. However, his breathing became labored, and he was eventually transferred to José Milton Memorial's intensive care unit (ICU).
Due to COVID protocols, Jesse Muino's family couldn't visit him while he was hospitalized, but his medical team made it a point to frequently communicate with his loved ones.
Yania Ortega, associate nurse manager of the ICU at José Milton Memorial, would become the family's lifeline.
Ortega remained in constant contact with Midialys Muino and provided her with frequent updates on Jesse Muino's condition.
When he first came to us, Jesse was alert and aware of his situation," Ortega said. "After a few days, his condition hadn't improved, and his respiratory status had gotten even worse."
Ivet Cordoba Torres, MD, José Milton Memorial's ICU medical director and a UHealth – University of Miami Health System anesthesiologist, explained to Jesse Muino that after careful examination, his oxygen levels were dangerously low, and he needed to be sedated and placed on a ventilator to help him breathe.
"I was scared, but I had complete trust in Dr. Cordoba Torres and my medical team," he recalled. "I was able to FaceTime my wife before I was intubated, and in a very emotional conversation, I said goodbye to her and my kids, not knowing if I was ever going to see them again."
After several days of being intubated, Jesse Muino's breathing wasn't getting better, and he eventually had to undergo a tracheostomy.
For the first time in almost a month, his lungs began to show improvement. He slowly regained consciousness and began to open his eyes.
"Jesse was one of the very first COVID patients we treated in our hospital," Dr. Cordoba Torres said, "We are grateful he and his family put their trust in our team. We worked tirelessly to save his life, and we're thrilled that our efforts paid off."
On September 3, 2021, Jesse Muino's doctors and nurses lined up to cheer him on as he was discharged from the hospital.
"Our faith kept us going, but our trust in the healthcare providers at Jackson West is what kept us sane," Midialys Muino said. "Everyone we met did their job with incredible compassion. They helped us navigate a scary time."
In the months that followed, Jesse Muino returned to visit the medical team who helped save his life.
"I consider everyone that helped me get better a part of my family," he said. "I wouldn't be here without the care and support of the Jackson West team."