Local Executive Recovers from Stroke with Help From Rehabilitation Therapy at Jackson North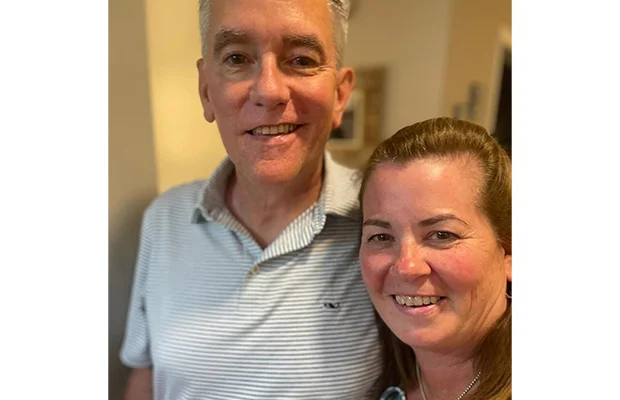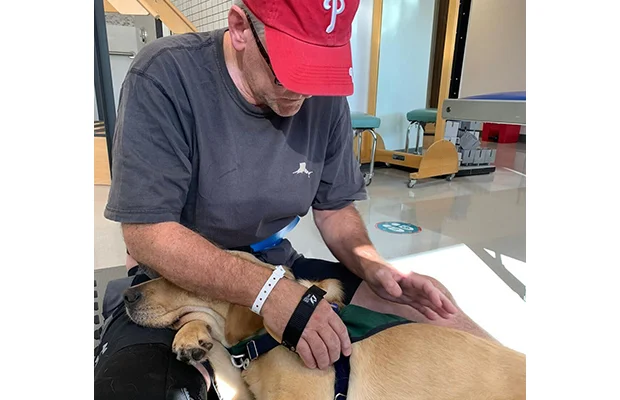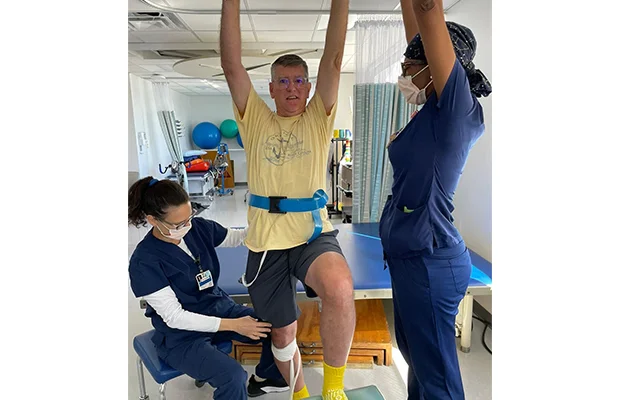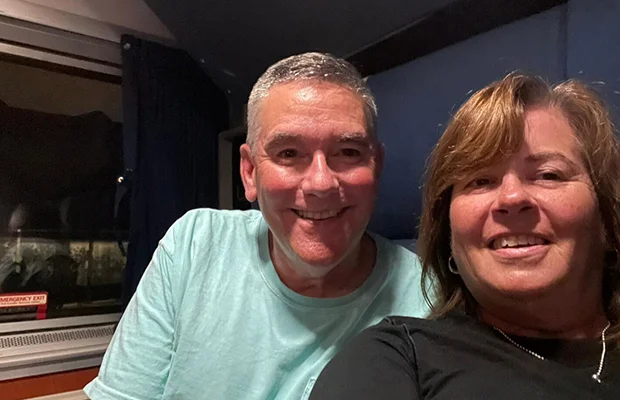 By: Krysten Brenlla
After having dinner with his wife on February 3, Richard (Rich) Proko, the associate vice president of global benefits at Royal Caribbean Group, began to clean up and wash the dishes. All of a sudden, he started to feel strange.
Within a matter of seconds, Rich, 59, collapsed on his kitchen floor.
"I didn't have any type of warning or symptoms beforehand," Rich said. "All I remember from that day is the fall, and then waking up in the hospital."
His wife, Susan Proko, found him and initially thought he was looking for something under the stove. However, when Rich wouldn't respond to her, she knew something was wrong with her husband of 34 years.
"I was in the other room for all of 10 seconds when I came out and saw Rich lying on the floor," Susan Proko said. "He didn't answer me when I called out to him, and he had a blank stare, so I called 911 right away. It really came out of nowhere."
Emergency Medical Services rushed Rich to the nearest hospital, where doctors acted quickly and followed stroke protocols to reach a diagnosis. They found that Rich was suffering from atrial fibrillation, an irregular and rapid heart rhythm that can lead to blood clots in the heart.
Additionally, after running various scans, doctors found that he had a blockage on his left carotid artery. Because of the blockage, a 2-centimeter blood clot had traveled to Rich's brain, immediately resulting in a stroke.
Rich's medical team acted quickly, and successfully removed the blood clot from his brain in an emergency surgery. After the procedure, he remained in the hospital for five days.
"I was scared to death," Susan Proko said. "We're from New Jersey, so we don't have a big support system in South Florida – I didn't know what was going to happen, I couldn't see my kids; it was a very tough situation."
Upon discharge, Rich required intense rehabilitation therapy to regain movement in his right hand. He also needed speech therapy to help with two speech disorders that developed as a result of the stroke – apraxia, a motor speech disorder that causes a disconnect between the brain and the mouth when trying to make a sound, and aphasia, a language disorder that affects a person's ability to communicate.
Rich's family worked around the clock to find the perfect rehabilitation center that would help him make a strong recovery. They were considering two other centers until they toured Jackson North Medical Center and found that Rich could have therapy sessions seven days a week.
During the tour, they also met Harmony, Jackson North's chief canine officer and facility assistance dog – and she stole their hearts.
"When I started therapy, I had trouble talking, I couldn't move my hand, and my left leg was dead," Rich said. "But the minute I got to Jackson North, everyone helped me. Every day, I got a little bit better."
With the help of physical, recreational, occupational, and speech therapy, Rich started to reach several major milestones.
"I remember when we first walked into Rich's room, he was already sitting up, ready for all that we had in store – he was a very no-nonsense kind of guy," said Baltany Michel, an inpatient occupational therapist at Jackson North. "Throughout his occupational therapy, Rich showed quick improvement with walking, but was plagued by his difficulties with speech and the lack of use of his hand."
To help facilitate his arm awareness and movement, the inpatient occupational therapy team used a variety of treatment interventions, including electrical simulation and neuro-developmental techniques. Rich's therapists also found that he enjoyed participating in different recreational activities, which was a major step in his recovery process.
"Rich loved cooking, staying active, and dogs, so we incorporated different activities, like cooking classes and a bowling day, which was a turning point in his recovery," Michel said. "His favorite sessions were always with Harmony, which was also a major help toward his recovery."
Rich used his time with Harmony to brush her hair with the use of a mitt and hand-over-hand assistance, work on commands with her, and play different games, such as tug of war and fetch, to help him regain functional movement in his arm and standing balance.
After being hospitalized for 18 days at Jackson North, Rich graduated and exceeded all of his therapy goals.
"Before going home, it all came together – he was talking up a storm," Michel said. "This was a man that was barely saying a word. At the time of his home evaluation, he was forming sentences. He's resilient and motivated, and he pushed through diligently with his family by his side."
After being discharged, Rich returned to Jackson North as an outpatient, where he continues to work with speech language pathologists to help with his intense apraxia of speech and aphasia. He's also working with occupational and physical therapists, who push him to continue walking and reintegrating daily activities into his routine.
"When he first arrived at Jackson North, Richard's speech was moderately to severely unintelligible – but, over time, he slowly improved. He's a very motivated and engaged person," said Christina Perez, an outpatient speech language pathologist at Jackson North.
Although Rich has a long journey to go, his speech disorders have greatly improved with the help of therapy. He is also able to walk, move his hand, and perform activities at home by himself, such as showering and cooking.
"At home, I really don't take care of him – he takes care of himself," Susan Proko said. "He goes outside, goes up on the ladder, and rides a bike – he really doesn't know how to sit still."
For the future, Proko wishes to return to work at Royal Caribbean Group, and is looking forward to doing the things he loved the most, such as exploring South Florida with his wife, travelling, and trying new breweries around town. He also hopes to take on more activities on his own, such as driving.
He's hopeful that he'll make a strong recovery with the help of the team at Jackson North.
"I'm getting there a little bit at a time, but I know I'll get there," Rich said.
"The entire rehab team at Jackson North is incredible. I would tell anybody to go there. I couldn't have asked for better care."