Navigating Breast Cancer: One Woman's Story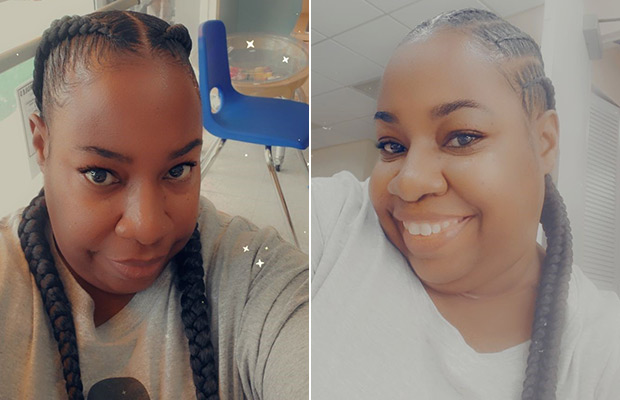 For seven years, Janet Bailey, 45, has had regular mammograms with normal results. Last May, however, she found a lump in her left breast. She immediately went to her primary care doctor, who ordered a second mammogram. Within a week, Bailey received the news that the lump was suspicious. The team at the Roberta Orlen Chaplin Digital Breast Imaging Center / Taylor Breast Health Center at Jackson Memorial Hospital performed another mammogram and ultrasound, which showed three additional lumps.
After performing a biopsy, the results showed one of the lumps was cancerous. Bailey had breast cancer.
"I was in disbelief, shock, and hurt all at the same time," she said. "I went to work and cried all day. Everybody just cried with me. They weren't expecting that outcome."
Luckily, Bailey was diagnosed with stage 1 breast cancer, and the other two lumps were benign.
"When breast cancer is detected early, there are more treatment options that are often less invasive, plus there is a better chance of a cure," said Eli Avisar, MD, a surgical oncologist and director of the Taylor/Chaplin Breast Health Center.
Successful Surgery
After coming to terms with the news, Bailey met with her team of doctors, who explained her options. She chose to have the cancerous tumor removed, and underwent surgery last August.
"She had a very straightforward case because the cancer was found early," Dr. Avisar said.
Bailey was nervous about the procedure, and how her breast would look and feel post-surgery. However, she was quickly put at ease by the hospital staff and medical team.
"Everyone was nice and helpful, the whole care team was wonderful," Bailey said.
After surgery, cancerous tumors are sent out for further testing. This data helps doctors determine the necessary follow-up treatment, such as radiation or chemotherapy. In Bailey's case, she will have to take oral hormonal medication, and will be monitored for the next few years.
Advanced Cancer Care
"One of the benefits of seeking care at a large health system like Jackson is a multidisciplinary approach that covers screening, diagnosis, and offers a variety of advanced treatment options, all at one center," Dr. Avisar said.
One option for some cases of early-stage, non-aggressive cancers is intraoperative radiation therapy, or IORT. This treatment includes one-time, high-dose radiation to the affected area during surgery after the tumor is removed. It alleviates the need for radiation and chemo treatments after surgery. Jackson is the only center in Miami-Dade County currently offering IORT.
For patients with more advanced cancer, Jackson offers procedures that can lower the risk of complications after the removal of the breasts and lymph nodes.
What You Can Do
As for Bailey, she is thankful that she found the cancer early and encourages everyone she knows to stay on top of their annual mammograms.
"Do not miss an appointment," she said. "If anything happens, you want to catch it early, so you can save your breast and your life and be healthy. Do not put it off, do not wait."
In addition to getting regular mammogram screenings as recommended by your doctor, Dr. Avisar advises women to get checked out immediately if they notice changes in their breasts.
"If you feel a lump, your nipple gets inverted, you notice new discharge from your nipple, the skin is red or the texture is different, get it checked out. Don't put it off or assume it is fine, it needs to be looked at," he said. "Be vigilant and seek help if anything is new or different."