South Florida Man Recovers from Stroke after Mother Sought Help Quickly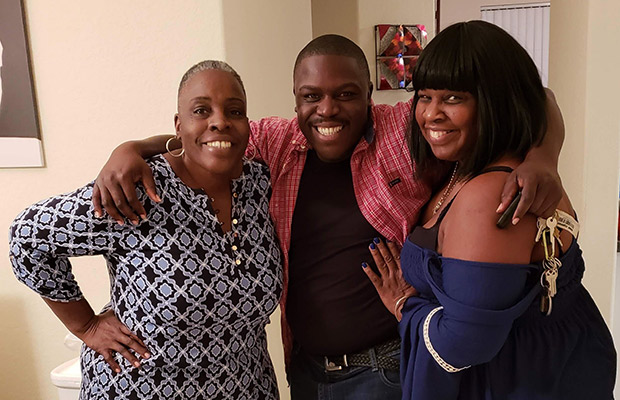 On January 8, Ricky Mitchell was returning home after having breakfast with his mother, Adonna Mitchell, when he started to complain that he felt strange. The 41-year-old, who suffers from seizures, knew that his body was going through something, unlike anything he had experienced before.
"I remember touching my hand and telling my mom, 'I can't feel my hand. It feels like I'm touching someone else's hand,'" Ricky said. "I've had seizures before and had never felt how I was feeling at that moment."
As soon as he got home, Ricky collapsed on the floor. He tried to stand up but could not muster the strength to. His mother carefully helped him up and walked him to his bed. She then called her sister, who's a retired nurse, for advice.
"She told me to have Ricky squeeze my hand, and when I couldn't feel any pressure, I knew he was in serious danger," Adonna said. "My sister told me he might've had a stroke."
At her sister's advice, Adonna got Ricky out of bed and into her car. She rushed him to the Emergency Department at Jackson South Medical Center.
The team at Jackson South acted quickly, following their stroke protocols and performing several tests, which lead to a stroke diagnosis. Ricky had a blood clot in the vessel on the right side of his brain. He required a higher level of care, so he was transferred to Jackson Memorial Hospital, which is a designated Comprehensive Stroke Center.
"Timely recognition is important when treating strokes. Ricky arrived with numbness on the left side of his face, his left arm, hand, and leg," said Gillian Gordon Perue, MD, a UHealth – University of Miami Health System neurologist, who took over Ricky's care after he was transferred. "Our team is trained to activate the stroke alert if a patient has any sudden weakness on one side of the body within the last 24 hours.
At Jackson Memorial, Ricky underwent an emergency mechanical thrombectomy, performed by Dileep Yavagal, MD, a University of Miami Health System neurologist and Jackson Memorial's co-director of endovascular neurosurgery. Dr. Yavagal was able to remove the blood clot, which helped Ricky regain feeling on his left side.
"Emergency thrombectomy gives patients much better odds of being fully independent at the 90-day mark after their stroke as compared to stroke treatments in the past," Dr. Yavagal said.
Ricky remained hospitalized for a week, where his medical team monitored his recovery from the procedure and the stroke. During his time at the hospital, he met with physical and occupational therapists to help him walk and use his left arm and hand again. After a couple of sessions, Ricky was back on his feet.
"I was able to walk and had feeling in my left hand the day after my surgery," he said. "When I arrived at the hospital, the doctors and nurses acted very quickly in diagnosing, detecting, and removing the cause of my stroke."
Luckily, for him, Ricky's mother got him to the hospital before he suffered any permanent damage to his brain or body.
"Many stroke victims do not seek care fast enough when having a stroke because they don't realize they are having one," Dr. Gordon Perue said. "It's important to learn how to recognize a stroke. I encourage you to B.E.F.A.S.T. Look for sudden onset of balance problems, eye problems, face droop, arm weakness, or speech difficulty. At the first sign of any one of these, it is time to call 911. Calling 911 activates the stroke team in the hospital even before the patient arrives."
Today, Ricky has made a full recovery and is feeling no secondary effects from his stroke.
"I'm incredibly thankful to the doctors, nurses, and therapists at Jackson South and at Jackson Memorial for springing into action as fast as they did," Ricky said. "It's because of them that I'm here today."