Celebrating Black History Month 2023: Vernon Gillum, Security Sergeant, Jackson North Medical Center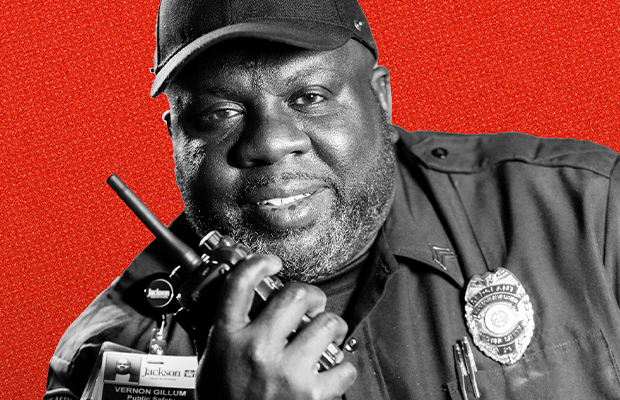 By: Miranda Torres
During Black History Month, we pay tribute to our Black community by celebrating the many contributions they have made to Jackson and South Florida.
The Spotlight will feature reflections from our employees on the importance of their histories, and what the observance means to them.
How long have you been at Jackson?
12 years
How do you feel knowing you are a Black leader within the Jackson employee community?
One of the things that helps heal or bring wholeness is when people can see individuals who look like them creating successful opportunities within the job market. It's important that this community have role models who are reinforcing a strong work ethic and professionalism. If there's one thing I've learned throughout my career, it's that you can never waver at opposition and you have to keep applying yourself. That's what I hope the young Black community around me sees when they look at my career.
What legacy do you want to leave for Black employees who hope to follow your example?
Never give up. It's seems simple, but my career at Jackson has been a consistent learning process, pushing me outside of my comfort zone. There have been times I have applied for supervisor positions in the past, and they didn't work out, but I never let that diminish my passion, my fire. Eventually, senior management saw the joy I have when I do my job, and that's when I was promoted to security sergeant. Being in the hospital or having a loved one in the hospital isn't always a pleasant experience. When I'm able to make someone's day a bit easier, I feel like I've done my job. The supervisor title shows that I lead by example. I hope my daughters can see that you have to apply yourself and stretch yourself beyond complacency in your job because the rewards are great.
Describe your Jackson experience in three words:
Life changing experience
What is your favorite memory from your time at Jackson?
One of my favorite memories would be when I was a patient at Ryder Trauma Center. At the time, I didn't know the severity of my injuries or what the outcome would be. Despite that, the professionalism, expertise, and attention that was shown to me – not just as an employee but also as a patient – calmed me and showed me that I would be ok. This level of care goes to show how our Jackson teams will go out of their way for every patient.
Who at Jackson has impacted your professional journey?
I've encountered many managers and leaders who have deeply impacted my life. They have imparted so much wisdom on me. I try to pattern myself after Jackson's senior management because they all try to model themselves after success. I thank God that he placed me around leaders who are always striving to improve, and it's because of them that I have never allowed myself to be complacent in my work. A few who I cherish fondly are:
Sherida James
Wayne Hester
Nelson Adams
What do you love about your job?
I love people and I love helping them in whatever way I can; that's what gets me up every morning. During the COVID-19 pandemic, I was seeing families in so much distress since they were not able to be with their hospitalized loved ones. This job allowed me to help them get in contact with each other, whether it be with a phone call or a FaceTime, and that made all the difference to them. I was able to show these people that Jackson was supporting them during this time of uncertainty, and I was able to be there for them. That's why I'm passionate about what I do.