Convalescent Plasma: What You Need To Know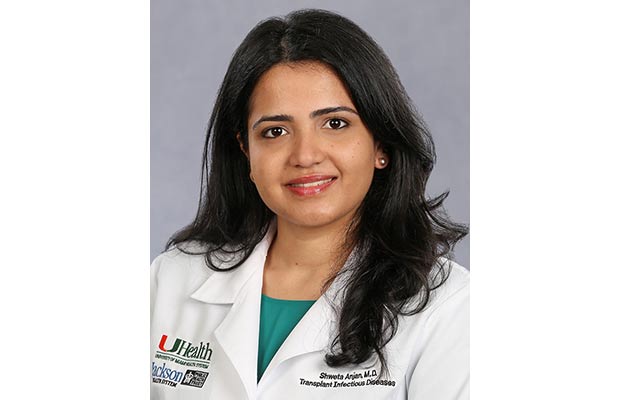 By: Dr. Shweta Anjan
The COVID-19 pandemic has created a global health crisis, which has resulted in unprecedented deaths, impacted our society, and strained the healthcare systems. Although there are a number of drugs being studied and vaccine trials that are ongoing, there is no proven treatment yet.
However, convalescent plasma, used since 1895 for infectious disease outbreaks, offers a promising treatment option for COVID-19. Convalescent plasma was also used during the H1N1 Influenza virus pandemic in 1981, and more recently for SARS1 in 2003, Middle East Respiratory Syndrome (MERS) in 2012, and Ebola in 2013.
Dr. Shweta Anjan, who oversees the convalescent plasma program at Jackson Memorial Hospital, tells us how patients recovered from COVID-19 can help local hospitals save more lives by donating plasma.
What is convalescent plasma?
Most people who recover from COVID-19 develop antibodies, which are proteins that the immune system produces to fight infections. These antibodies are found in plasma, the yellow liquid portion of blood and if collected from a person who has recovered from the virus, it is known as COVID-19 convalescent plasma.
How is it collected?
Plasma is collected by a process called apheresis, which uses a special machine to separate the blood into different components. The plasma is removed, while the rest of the blood components are returned into the donor's body. The donation process will take about one to two hours.
Who can donate convalescent plasma?
Anyone who has had a confirmed positive COVID-19 test result, and is symptom-free for at least 14 days, can donate plasma. People who have recovered from suspected COVID-19 but never had a confirmed positive test result can also become donors if tests show they have the SARS-CoV-2 antibodies. Other eligibility criteria for blood donation would also have to be met. That information can be found at oneblood.org/covid-19.
How can convalescent plasma help a patient with COVID-19?
Passive immunity or antibody therapy involves the administration of antibodies against a specific bacteria or virus to a susceptible individual for the purpose of preventing or treating an infectious disease. It provides immediate immunity. In contrast, vaccination requires the body to produce an immune response after receiving the vaccine. Antibody development after vaccination takes time and varies depending on the vaccine recipient.
But with convalescent plasma, given at the early stages after COVID-19 is diagnosed in a patient, can help boost immunity to fight the virus. Several recent studies have shown it is safe and may help decrease mortality if given early.
Where can a person donate convalescent plasma?
If you have recovered from COVID-19 and want to donate plasma, contact the American Red Cross or OneBlood for more information. Convalescent plasma donation is voluntary but can help save more lives in our community.
Are there any clinical trials taking place? How can a person enroll?
Yes, there are ongoing clinical trials to assess efficacy of convalescent plasma. If you are admitted with COVID-19 to Jackson Health System, you may be eligible to enroll in the "Convalescent Plasma to Limit COVID-19 Complications in Hospitalized Patients" trial.
There are also two outpatient clinical trials starting soon at our clinics for the use of convalescent plasma in infection prevention (prophylaxis) in those who have been exposed and for outpatient treatment of COVID-19. You can email covidplasmastudy@miami.edu for more information.
Shweta Anjan, M.D., is an Assistant Professor of Clinical Medicine at the University of Miami, Miller School of Medicine. She is an Infectious Disease physician with special focus in transplant infectious disease.