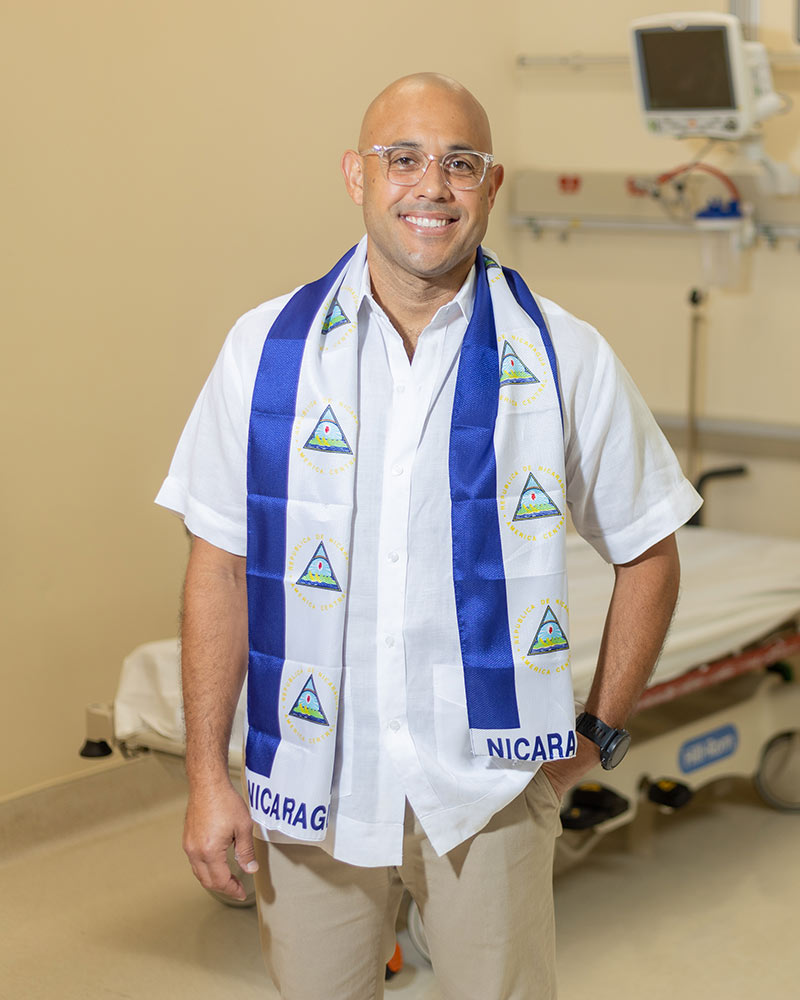 I come from Nicaragua, a Central American country that is poor economically, but rich with a vibrant culture, beautiful people, and delicious food. Our arts and crafts are beautiful. We are a caring population, stand up for what we believe in, and we come together to support one another in times of need.
One of the annual traditions that I participate in is La Purisima on December 7, which celebrates the Immaculate Conception of the Virgin Mary. The holiday, Nicaragua's biggest of the year, is a time when it's great to give and receive. Similar to trick-or-treating in the United States, children go from house to house and receive presents or sweets after chanting, "¿Quién causa tanta alegría?" The homeowner then responds, "La concepción de María!"
I'm incredibly proud of my heritage; being in South Florida and getting to care for patients with a similar background as me brings me joy every day I come to work.
Denis Carballo
Associate nurse manager, emergency department, Jackson South Medical Center
You will always listen to the sound of dominoes in my patio. Our traditional food includes roasted pork, black beans, white rice, or "moro," with a mojito or rum cocktail. We love our family; we love music and dancing. We are very happy people and I love that!
At Jackson, I can directly help those who cannot speak English and need our assistance. It is an honor to be able to give back to a community that has welcomed me and my loved ones with open arms.
I feel even prouder of my Hispanic heritage because we are a community of immigrants who have achieved great professional and business achievements. We fight through adversity no matter how many difficulties we face in life. We are thankful for this nation that has allowed us to live in freedom.
I'm proud to be Cuban.
Sofia Graciela Morales
Licensed practical nurse, Jefferson Reaves, Sr. Health Center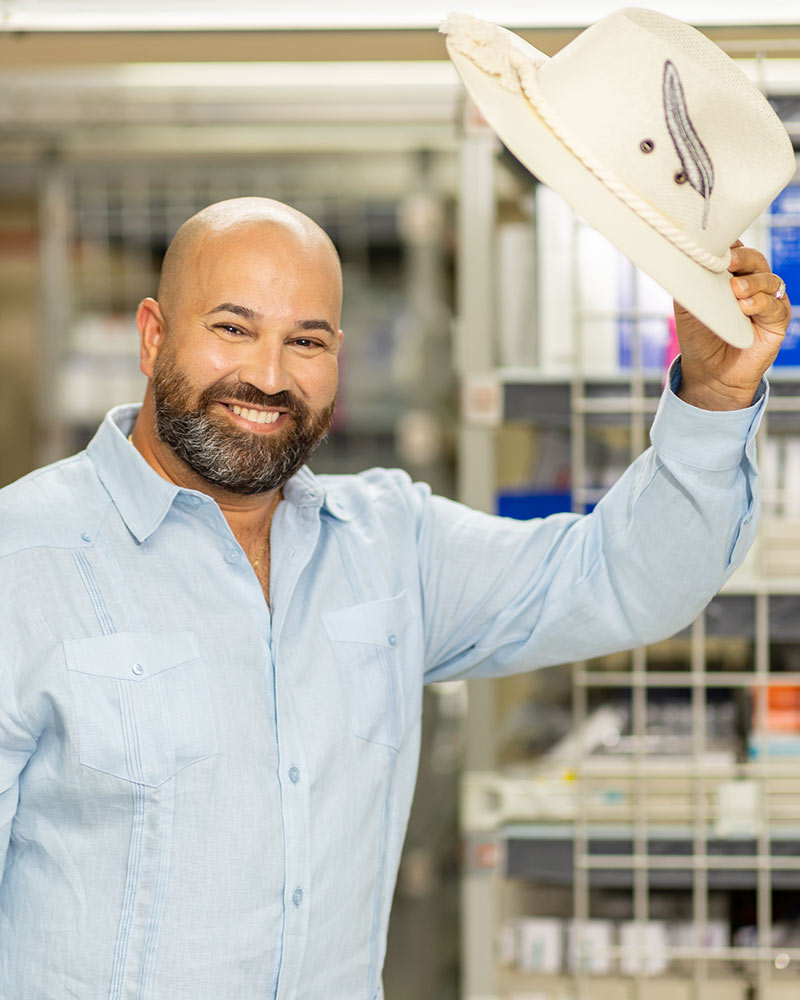 Being Hispanic in South Florida means the commitment to our legacy. It describes my appreciation for my Cuban culture, the pursuit of happiness, and freedom. Our influence can be felt everywhere, from music, the arts, and sports, to politics and the food we eat. Our commitment to faith, family, and country strongly support our contributions to our society beyond description. Within our authenticity and resiliency, relays our power.
Cubans represent one of the largest ethnic minorities in our health system, and Jackson has allowed us to be active members in providing world-class care for everyone.
At Jackson, we celebrate the culture of inclusion and diversity in everything that we do. We are a crucial component to navigating a successful cultural transformation in our organization. CARE (compassion, accountability, respect, and expertise) are values that are part of our Hispanic DNA structure.
Luis Alfonso
Director of pharmacy, Jackson North Medical Center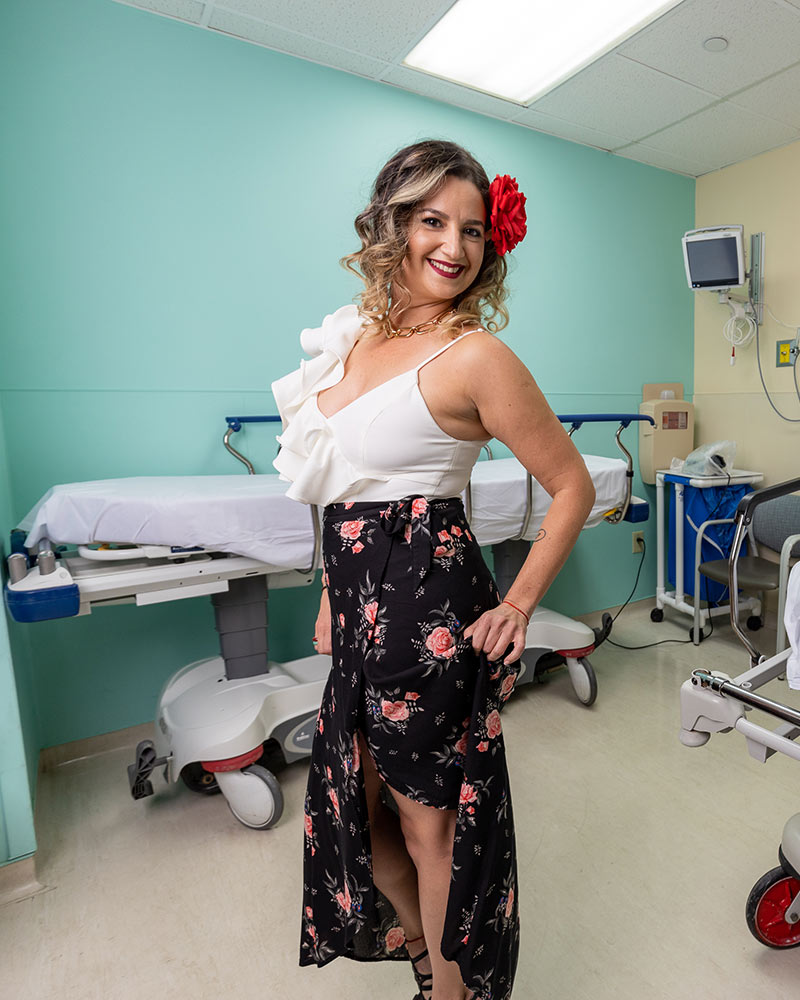 Being Hispanic is about tradition, values, and heritage. To be Hispanic means to be brought together through a language and celebrating what makes my community and me unique. We have core values that tie every person together, such as family, fiesta, faith, and food.
In my Cuban culture, one of our biggest traditions is dancing and throwing a bucket of dirty water out the door on New Year's Eve, symbolizing tossing out all of the bad memories and mishaps of the year.
Also, we gather around a burning scarecrow called the "muñecon," a straw effigy that's lit on fire to represent the purging of bad vibes, bringing in a fresh start to the new year.
Anisley Canizares
Clinical staff nurse, Holtz Children's Hospital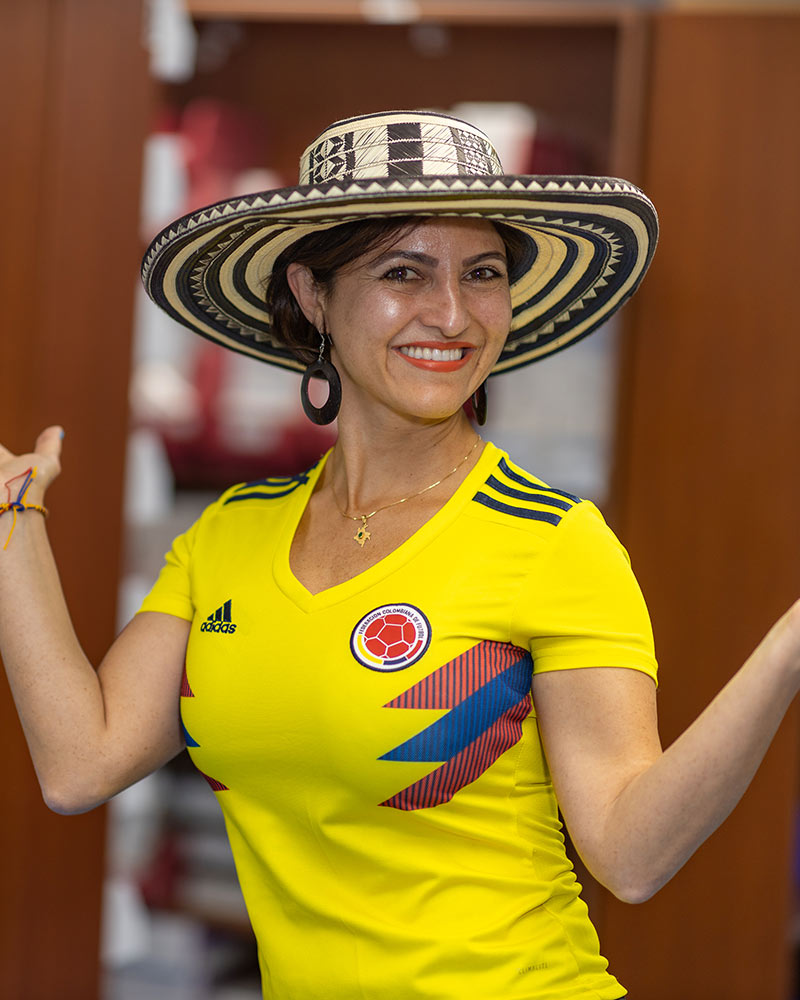 I came to the United States 25 years ago from Colombia, and have been in Miami ever since. Although Colombians have overcome a history of violence and many challenges, our resilience has made us more patriotic. Colombians are enthusiastic, polite, charming, social, and warm. Joy runs through our veins, we love la rumba (to party), and we are fútbol fanatics.
Being Hispanic and working in a diverse setting has helped me connect and relate easily with my fellow employees, patients, and visitors – allowing for a more personal interaction and better outcome.
Jackson has been my second home for the past 15 years, and has allowed me to grow both personally and professionally. I'm looking forward to many more joyful experiences.
Carmenza Castro
Clinical practice pharmacist, Jackson Memorial Hospital Infection Preventionist and Infusion Pharmacy Services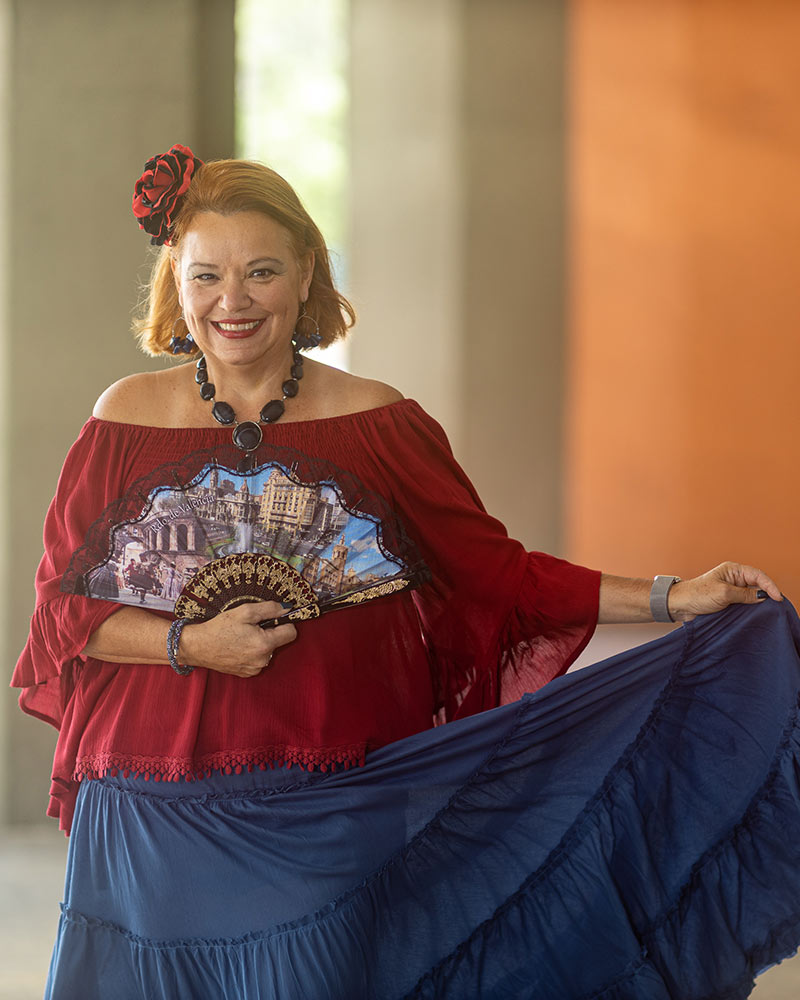 My blood comes from indigenous, African and Spanish descendants. Growing up in the island of Cuba, my parents and grandparents made sure I knew where I came from: our roots, our history, and our heritage. They also made sure I learned about their struggles.
My father went to prison in 1962 when I was 6 months old, because he did not agree with the Communist regime. He was released when I was almost nine years old, and because of him, we were able to apply for a visa given to all political prisoners and their family to leave Cuba, which gave us the opportunity to emigrate to the United States. Since then, my family has become accustomed to our new country, while also keeping our own roots alive. We try to pass our traditions on to our children and the new generations.
One special tradition we celebrate is Noche Buena or Christmas Eve, when a whole suckling pig is prepared in the backyard on a rolling stick or an improvised oven on the ground called "la caja china". The entire family gathers from early in the morning to prepare the festivities. We invite neighbors, co-workers, everyone we can think of – the more the merrier!
I always wanted to work at Jackson Memorial Hospital since I can remember. For years, I came to human resources every week to apply for positions available, until November 1993 when I was hired as an accounts payable clerk. Then in 2008, I started working as a procurement specialist.
Jackson is a big family where people come from different cultures, religions and ethnicities. We share, respect and learn from each other. I couldn't be more proud to work for this institution!
Lourdes De Leon
Procurement management, Jackson Memorial Hospital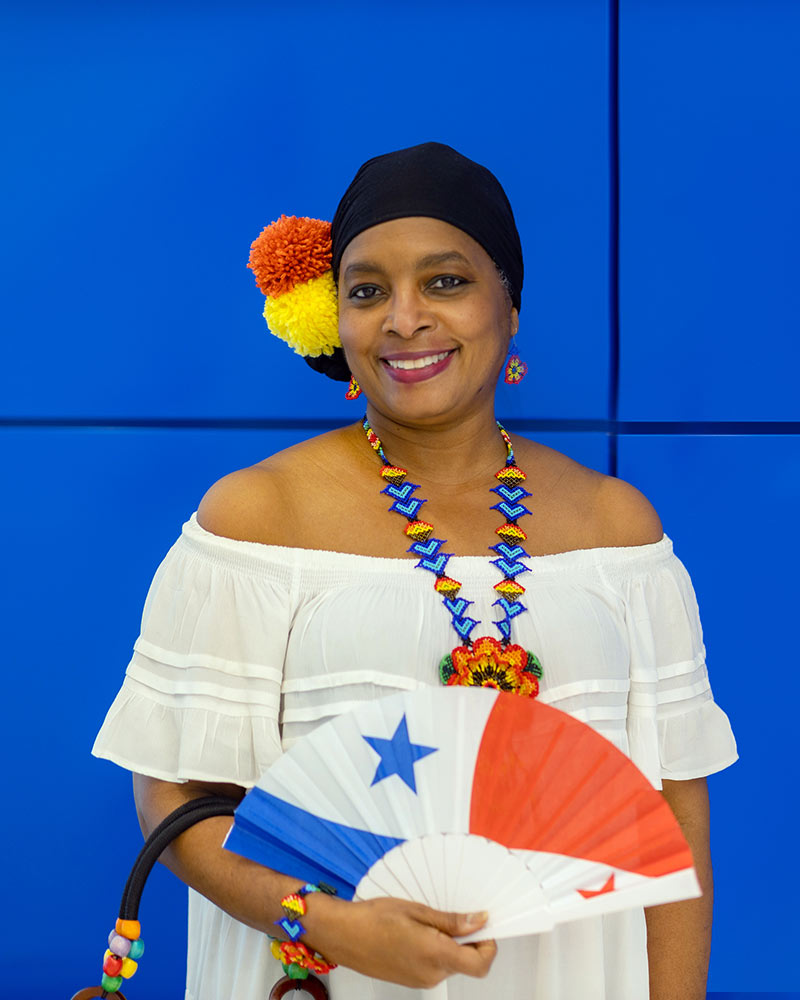 I am from Colón, Republic of Panamá – a Central American country that is located on an Isthmus, the narrow bridge of land that connects North and South America, also known to many as the "Center of the World, Heart of the Universe."
Panama is known for its natural beauty, diverse culture, vibrant people, and music. One of our traditions that I participate in is the Annual Panamanian Independence Parade in Brooklyn, New York, which was started in 1995 by Panamanians that migrated to the area. It is the largest Panamanian Parade in the World out of the Republic of Panama, and it commemorates our independence and celebrates our pride, our diversity, and our culture. Individuals march to the music emanating from the marching bands that travel from Panama and other states. We also enjoy our colorful costumes, dances, traditions, and gastronomy. This year it was held virtually via YouTube due to the pandemic.
I am proud to be Hispanic, and to be able to work at Jackson alongside people who share the same background and similar cultures. I am happy to be a part of the Hispanic rainbow at Jackson.
Adriana Vicenta Pascal
Executive assistant, Christine E. Lynn Rehabilitation Center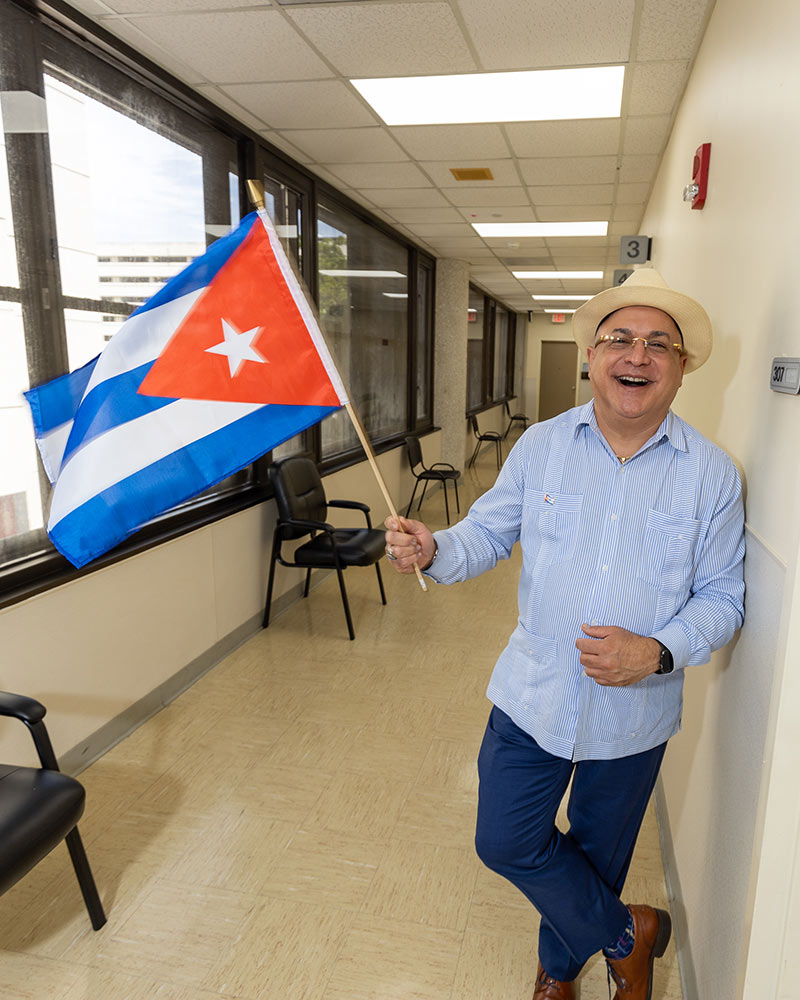 Nothing makes me prouder than to be Hispanic! As a Cuban, born and raised in Cuba, later immigrating to the United States, these experiences have allowed me to realize that being Hispanic gives breath to life and a deep meaning to my personal and cultural identity.
Being Hispanic is about being part of the ever-changing cultural landscape of this country that affords social, educational, and societal opportunities that allow us to become role models. Knowing and understanding one's culture and traditions, incorporating them in all aspects of one's being and thriving to sustain those values that define cultural identity is fundamental to self-identifying as being Hispanic.
Traditions are embedded in the food we eat, the clothes we wear, the religion we follow, and the skills we learn. The traditions that continue to be at the foundation of my cultural inheritance include: multigenerational family gatherings with extended family members, religious practices, enjoyment of Latino music, dancing and social events, such as domino tournaments and Cuban Carnival celebrations to name a few.
Jackson is a health care system that embraces diversity. Being a Hispanic nurse leader in the health system provides an opportunity to be an advocate for Hispanic communities and cultures that others may not be familiar with.
The most rewarding aspect of being a Hispanic at Jackson is being "entre familia," being free to embrace my colleagues and patients as "Mi hermano" or "Mi hermana," and demonstrating authentic respect for each other as we learn to accept that we are all human beings regardless of race and ethnicity.
Armando Riera
MSN, RN, NP-BC, Primary Care Nurse Practitioner, ACC West