UHealth Neurosurgeons at Holtz Children's Hospital Perform Lifesaving Surgery on 13-year-old with Giant Vein Malformations and Aneurysms in the Brain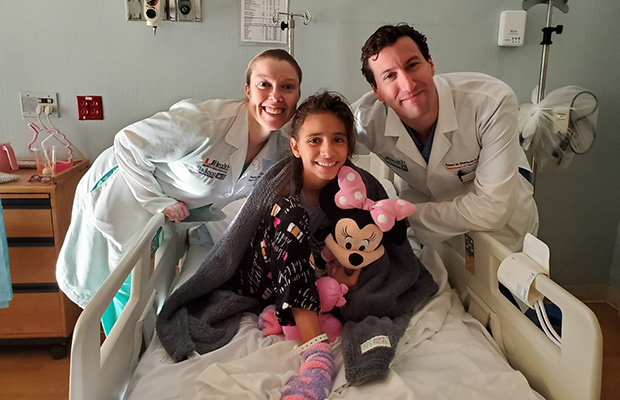 In 2017, Sasha Gadea began suffering from headaches. Initially, Sasha's parents took her to get her vision checked because she wore glasses. But two years later, her headaches took a turn for the worst.
"I received a call from her school saying that she wasn't feeling well," said Yudith Gadea, Sasha's mother. "When I picked her up, Sasha had a bad headache and had lost vision on her left eye."
Sasha's parents first took the 13-year-old to a hospital near their home in Key Largo, and she was referred to Bascom Palmer Eye Institute at the University of Miami/Jackson Memorial Medical Center. Once there, her condition worsened. Sasha began throwing up, and was immediately rushed to the emergency department at Holtz Children's Hospital.
"While in the emergency room, Sasha's vision came back," recalls her mom. "It wasn't until she got an MRI that doctors were able to give us a diagnosis."
Sasha was suffering from a condition called anteriovenous malformation (AVM) – a congenital disorder which consists of tangled abnormal blood vessels connecting arteries and veins in the brain. To make matters worse, Sasha also had three aneurysms within the AVM. She was at risk of having life-threating bleeds, and also suffering major disabilities as a result of a rupture.
"Sasha's case was very challenging because she had a very large AVM extending deep into the brain," said Dr. Heather McCrea, UHealth pediatric neurosurgeon and director of pediatric neurosurgery at Holtz Children's Hospital. "Since she is so young, she had a lifetime risk of having major complications from the AVM."
Dr. McCrea began consulting with Dr. Robert Starke, UHealth vascular neurosurgeon and neuroradiologist, and co-director of endovascular neurosurgery at Jackson Memorial Hospital.
"Sasha's case is so remarkable because most medical centers would have deemed her case inoperable given the large size of the AVM," said Dr. Starke. "After studying her case, we were confident embolization and surgery would save her life, and reduce her risk of possibly having monthly bleeds and suffering substantial disabilities."
On May 7, 2019, Sasha first underwent endovascular embolization, a minimally invasive procedure in which Dr. Starke placed a catheter through her leg and passed it through the artery in order to close giant vessels and aneurysms, which were basically feeding the AVM.
"The embolization procedure created a safe pathway to move forward with surgery to remove the AVM and treat the aneurysms," said Dr. Starke. "This procedure reassured us we could have a shorter, faster, safer surgery, and reduced the need to give Sasha blood transfusions during surgery."
A few hours later, Dr. Starke and Dr. McCrea performed surgery on Sasha to remove the AVM and treat the aneurysms, and managed to safely remove the entire malformation in one piece, which measured nearly seven centimeters – about the length of a credit card.
The endovascular neurosurgery program at Jackson Health System is one of the few centers in the nation that has a hybrid operating room, which combines an angiography suite and operating room. Dr. McCrea and Dr. Starke performed an angiogram on Sasha immediately after removing the AVM to make sure all of it was out.
Almost 24 hours later, Sasha's parents were reunited with her.
Sasha was discharged six days after her lifesaving surgery, and has made a remarkable recovery. Since then, she has been able to resume her favorite activities, such as swimming, kayaking, and bike riding.
She says this experience has changed her life for the better.
"I'm happy and feel different, but in a good way," said Sasha. "After this, I have a new perspective on life. I think twice about what I'm going to say or do."
Sasha is excited to continue seventh grade at Key Largo School, and would like to pursue a career in environmental engineering.