Weight-Loss Surgery Helps Miami Man Jump Start A New Life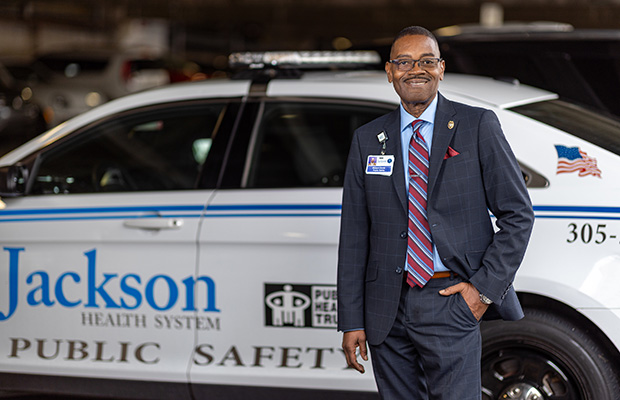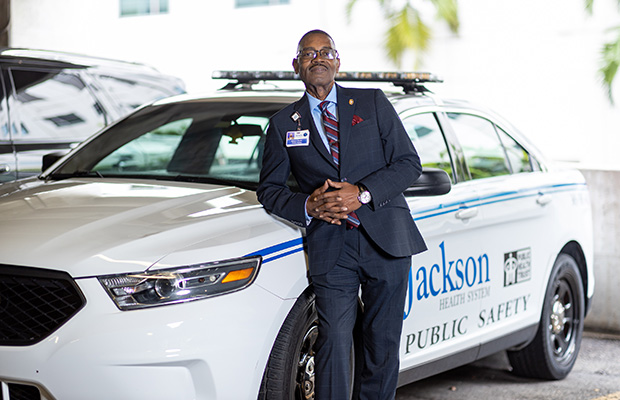 During a routine doctor's appointment in 2018, Robert Davis, assistant chief of security for Jackson Health System, was astonished at the scary news he received – he was borderline diabetic and had high blood pressure. He had not noticed his weight creeping on until these other health complications presented to him.
A year later, he was diabetic, sluggish and walking a short distance was difficult without getting out of breath. His new diagnosis along with the loss of his beloved mother motivated him to make a change.
"That's when I made the decision to start taking better care of myself," he said. "That's when I took a chance on visiting one of our Jackson bariatric surgeons."
He sought the help of Elias Chousleb, MD, a bariatric surgeon and medical director of the Gastric Sleeve Center at Jackson North Medical Center, who gave him the extra confidence he needed to go through with it. After nutritional counseling, Davis felt ready for surgery. His goal was to lower his blood pressure, get a handle on his diabetes and lose at least 80 pounds.
"We knew his other health complications would improve once he was able to drop some of the excess weight," Dr. Chousleb said.
Davis was nervous about the surgery, but pleasantly surprised at how he felt immediately after the procedure, which took place in May 2019.
"It was better than I expected," he said. "In a couple of hours I was up and walking."
Now, more than seven months after his weight-loss surgery, Davis is proud to have lost 100 pounds, surpassing his initial goal.
"I feel like I felt when I first started working at Jackson more than 30 years ago," he said. "I have a lot of energy and can walk this campus with no problem – I feel great. I feel young."
To keep a handle on his weight, Davis watches his calorie intake, limits how much soda he drinks and regularly goes to the gym.
"I think the fact that my patient kept positive despite having some adversity is what made him succeed," said Dr. Chousleb. "He's done great."
While Davis recommends weight-loss surgery to others, he warns that it takes a lifetime commitment to achieve results.
"If you value your health more than food, it's for you. But if you don't value your health, you'll go right back to the way you were," he said. "Bariatric surgery gives you a jumpstart into a new life but it's up to you to maintain it."
Making his health a priority may take a little work, but Davis said he couldn't be happier.
"This is the best thing that ever happened to me besides my children and my wife," said Davis. "I wish I would have done it sooner."