When is the Right Time for a First Visit to the Gynecologist?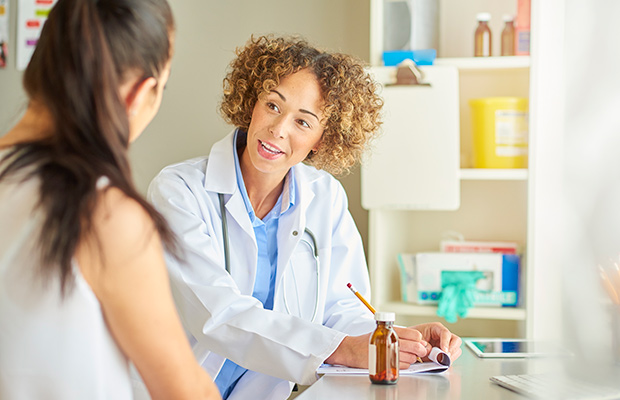 When is the Right Time for a First Visit to the Gynecologist?
Oftentimes, just the thought of discussing the changes in a young woman's body that can lead to sexual desires sends many parents over the deep end. Yet there comes a time in their daughter's life when that development occurs. Keeping in mind that this discussion is health-related may make the conversation easier.
Confidential assistance for this challenging time for parents and their daughters is not hard to find. According to Dr. Jamell Walker, an obstetrician-gynecologist (OB/GYN) at Jackson South Medical Center, this is an optimal time to seek out the advice of a gynecologist.
We asked Dr. Walker for her advice on how parents can navigate this important time in their daughter's development.
At what age should teens/young women begin seeing a gynecologist?
The American College of Obstetrics and Gynecology recommends that young women have their first visit with an OB/GYN between the ages of 13 and 15. However, it's very individualized. I recommend young ladies see a gynecologist when:
• They begin menstruating. This is a time in a girl's life when she has questions about how her body is changing, and some parents are uncomfortable discussing it.
• If they suffer from painful menstrual cycles, or heavy and/or irregular periods.
• If they are sexually active or if parents suspects their daughter is thinking about having sex.
Do you recommend abstinence? Is it still the best form of protection?
I encourage all young ladies to engage in abstinence until they're married, in a loving, committed, caring relationship irrespective of their age. Abstinence is the best protection against sexually transmitted diseases (STDs) and it is the only form of birth control that is 100 percent effective.
What can parents expect their daughter to experience during a gynecology exam for teenage girls?
The type of exam performed depends on:
• If the teenager is sexually active or not.
• If she is not sexually active, the visit is usually a consultation, where we spend most of the appointment talking about her menstrual cycle and making sure she is maintaining her physical health. A vaginal exam is usually unnecessary.
• If she tells me that she is sexually active, then I explain the different ways to practice safe sex, including how condoms are used. I also discuss pregnancy prevention and sexually transmitted infection (STI) prevention. It is also standard to test for STDs.
• Pap smears are not applicable to women under 21 unless there are other risk factors.
What can parents do to make their children feel comfortable talking to them about their changing bodies and sexual intercourse?
The best thing a parent can do is engage their child in dialogue – over, and over, and over again. It may be uncomfortable at first, but your child may open up and share more than you expect.
Another option is making an appointment with a gynecologist, who can serve as a mediator. Girls may share things with the doctor that they're afraid to say to their parents.
In my practice, I usually excuse the parent from the conversation and then speak privately with my patient. During that conversation, I explain the importance of being open and honest with your parents because they are your best advocates and are always looking to protect you.
Is there a typical age when young girls start getting their period and thinking about having sex?
Some girls begin menstruating as young as 8 or 10 years old, though the average age is 12. But the age varies because every girl develops differently.
Although it is never an easy conversation to have, parents need to understand that in general girls are engaging in sex and sexual behavior younger than they did in the past. The reality is that I have delivered babies to 12-year-old girls. Even though the human body is physically able to carry a baby at that age, however, that does not mean a girl that age is emotionally or financially able to be a mother and care for a baby.
We, as responsible parents, have to step up to the plate to help our children make good decisions and know the repercussions of being sexually active at a young age.
When you factor in race, ethnicity, and culture are there changes to the age range that things happen?
It's pretty consistent across the board. The biggest phenomenon I'm seeing are girls who maintain their vaginal virginity, but are sexually active by engaging in oral or anal intercourse. That is also risky because there are numerous sexually transmitted diseases related to these practices.
Speaking of sexually transmitted diseases, what are some of the biggest health risks teenage girls face?
Of the STDs that they encounter, the most prevalent is human papillomavirus, known commonly as HPV. That's why we encourage girls around the age of 12 to get the HPV vaccine.
These young ladies are also engaging in activity that puts them at risk of other STDs, including chlamydia, gonorrhea, genital herpes, genital warts, Hepatitis B, HIV and AIDS, and pelvic inflammatory disease.
Do you have any final advice that you would like to leave with parents of teenage girls?
Use your gynecologist as a resource. We provide information and education on safe sex and the prevention of pregnancy and STDs, and can help treat various issues related to periods that are missed, or reproductive problems.
Learning about female health and taking care of their body from a young age is important. Women continue seeing their gynecologist for many decades, and it is important to develop a relationship with a physician they trust and feel comfortable with.
Gynecology Services
We provide comprehensive services in gynecologic care for women of all ages.
From routine medical screenings and treatments to gynecologic surgery and oncology at many of our locations throughout South Florida.