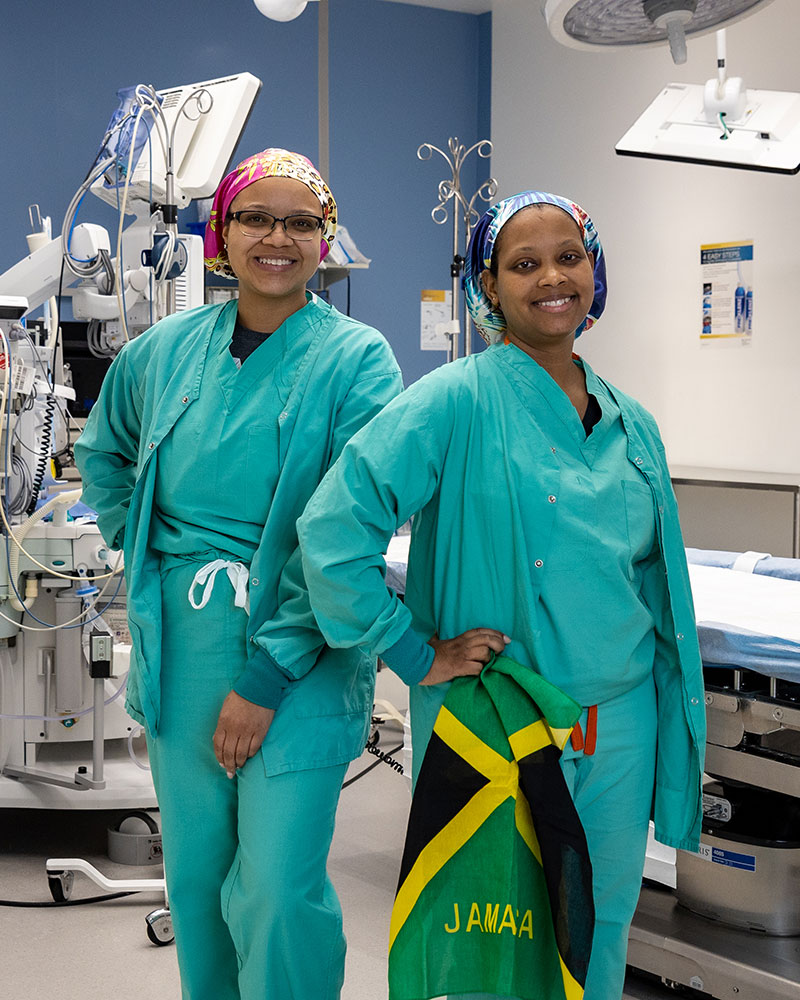 Terehas and Sharifa share a special bond, not only as sisters but also as coworkers. Following in their mother's footsteps, who worked as a certified nurse assistant, the Lindo sisters entered the medical field, and both work as certified registered nurse anesthetists in the operating room.
Terehas, the older sister, has been working at Jackson since 2009, while her younger sister Sharifa joined in 2020 amidst a pandemic. Working at Jackson has brought them and their families so much joy. The Lindo sisters take great pride in working for the number one transplant institute in the United States.
Terehas was born in Kingston, Jamaica, while her younger sister Sharifa was born at Parkway Regional Medical Center in what is present-day Jackson North Medical Campus. Their Jamaican heritage has played a large role in molding who they are today.
Working at Jackson reminds them of Jamaica. Like Jackson, Jamaica is a melting pot of different races, but the people remain true to their motto "out of many one people." This belief has helped them relate with their patients and form bonds with their patients. But above all, this motto serves to remind us that we're all one group of people.
"Growing up, we had two identities. We were Jamaican-American and understood the struggle of the black community, but it's important to remember that regardless of our skin color and traditions, we are all members of the human race."
Terehas Lindo-Williamson and Sharifa Lindo
Associate nurse manager, emergency department, Jackson South Medical Center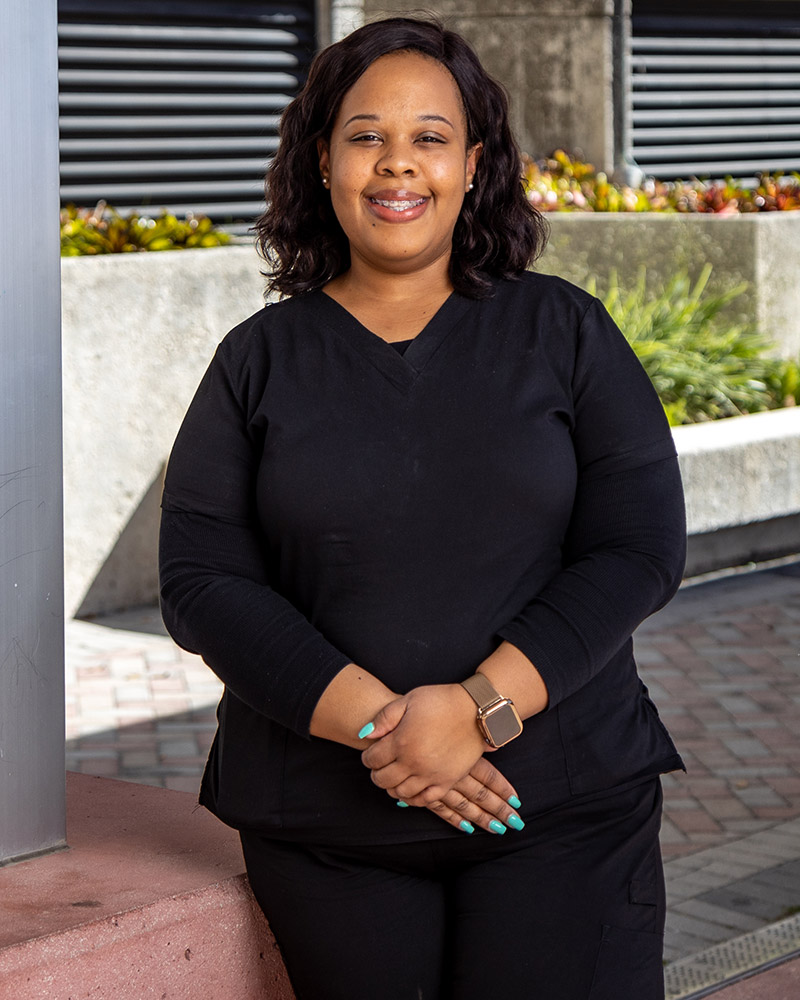 As a New Orleans native, Jessica has made Miami her second home. She's brought that New Orleans personality with her to Jackson, where she's been since 2017. In her role as an administrative assistant, she relishes the opportunity to help others and bring a smile to whoever may need a little bit of joy in their day.
Black History Month means a great deal to Jessica, who attended Louis D. Armstrong Elementary in New Orleans' Lower Ninth Ward. In 1960, it was known as McDonogh 19, and in that same year, it became the first desegregated school in the Lower Ninth Ward.
"During Black History Month, I reminisce on the obstacles that the Black community in my hometown overcame and the sacrifices they made to move our culture and our people forward. Without the help and perseverance of those who came before me, I wouldn't be where I am today."
Jessica Causey
Administrative Assistant, Ambulatory Care Center West, Jackson Memorial Hospital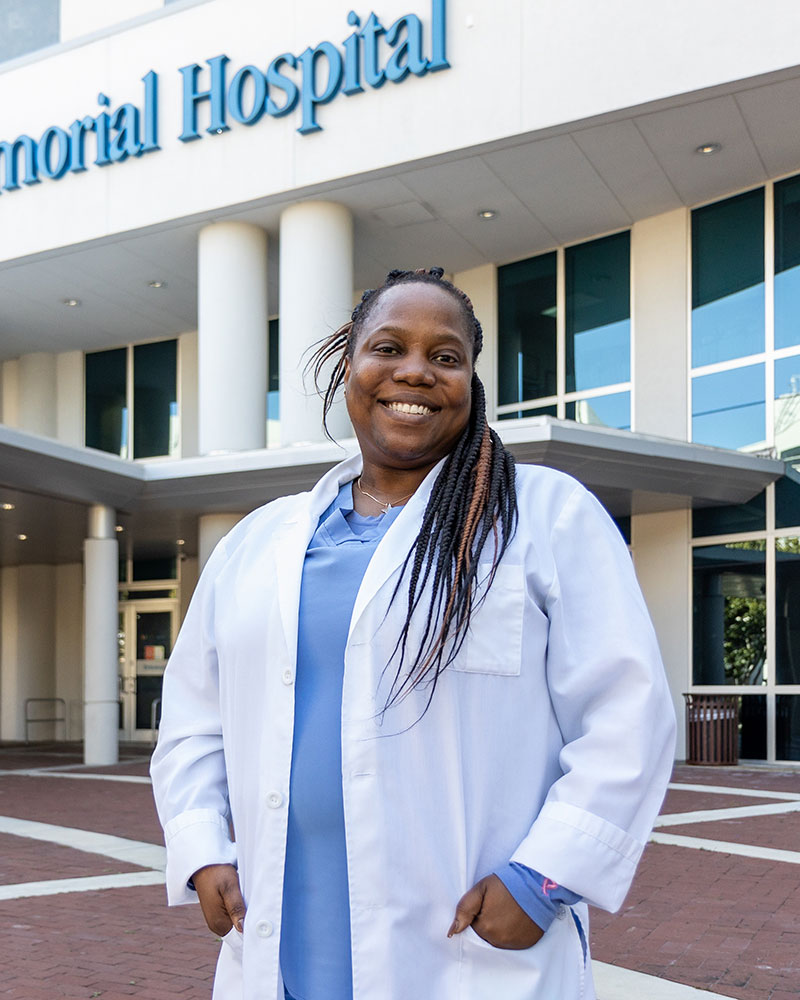 Sherona is a proud Jackson baby, and today, working for Jackson has allowed her to give back to the local community. She's worked as an APRN in Jackson for 20 years and describes her coworkers as her extended family.
Working at Jackson, Sherona has encountered many people from different cultures and backgrounds. These interactions have deepened her appreciation for her family's culture. Being of Haitian descent, one of her favorite family traditions is celebrating Haiti's independence day on January 1 by eating Joumou soup — Haiti's national soup. Her cultural upbringing is the core of who she is and what she represents.
"Being a first-generation Haitian American, I'm proud and honored to come from a people rich with traditions and culture. Black History Month is a month for remembrance and learning. I think back to all the challenges the Haitian people have overcome, and I continuously learn about my culture and my island."
Sherona Mickens-Williams
Advance Practice Registered Nurse, Ortho-Trauma, Jackson Memorial Hospital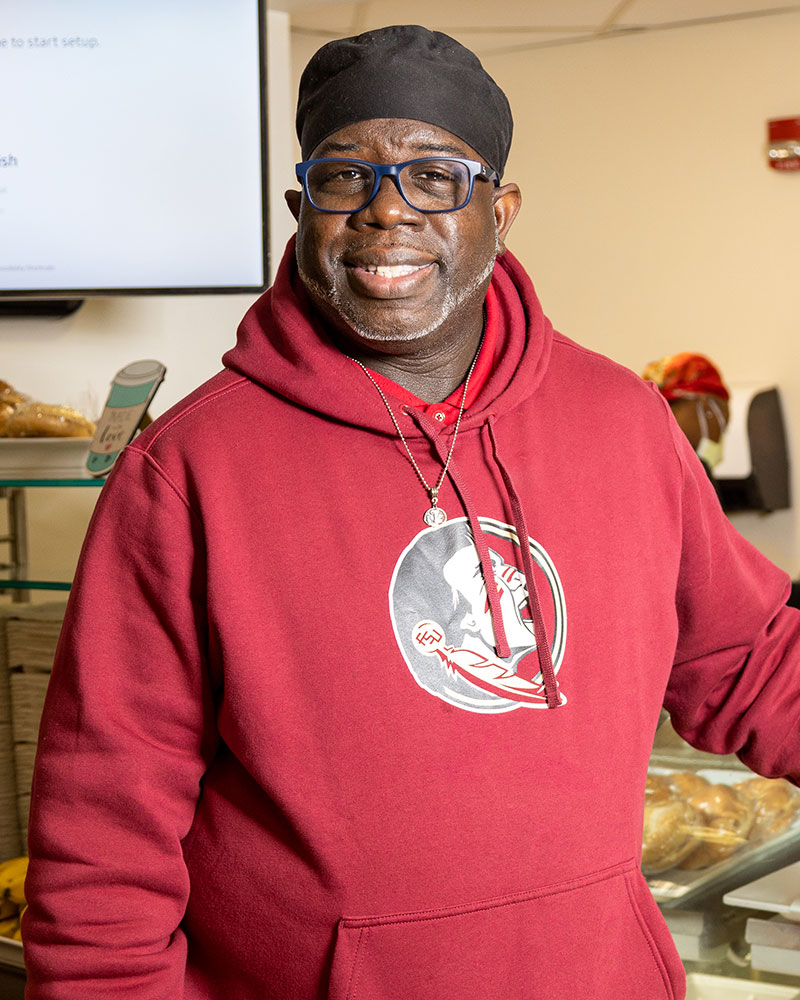 During February, Clarence Williams loves getting his family together for big cookouts to honor the importance of Black History Month. It means a lot to him to share these moments with his daughter because there were people that came before him who fought and protested for the right to be treated equally, and Clarence doesn't want his daughter to take their sacrifices for granted.
"I've spoken to my daughter at length about the importance of Black history. I tell her all the time that she can accomplish anything, to never allow someone or something to impede her path to success because of the color of her skin. In the past, the Black community struggled mightily, but they persevered through it all, and we've come very far from where we were."
Clarence Williams
Nutrition Worker, Dietary Services, Jackson South Medical Center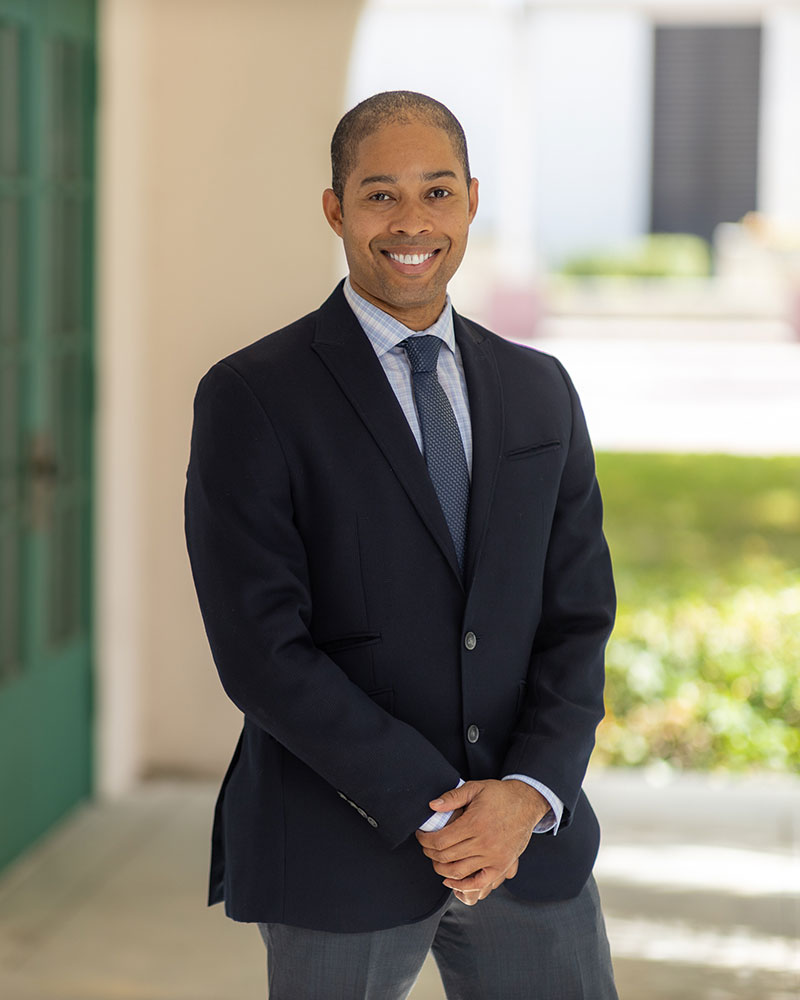 Originally from St. Andrew, Jamaica, Samora moved to South Florida as a teenager. Growing up in a Jamaican household while living in America, he has a unique outlook on being black. To Samora, Black History Month is a moment to reflect on Jamaica's history of overcoming slavery and achieving independence from the United Kingdom while also remembering the plight of Black Americans in the United States overcome in their pursuit of equal opportunity.
Samora's grandmother is the reason he chose to work in the medical field. As a young boy, he witnessed his grandmother caring for her neighbors, the poor and mentally ill, who roamed the streets in despair and destitute. She would treat their wounds and give them food. He was inspired by her goodwill and has devoted his career to helping his community just as she did.
"Black History Month serves to remind us of the many disparities that the Black community faces. It's our opportunity to gird ourselves to overcome an insidious culture of oppression and to truly live up to the aspirations of the American experiment — the promise of life, liberty, and justice for all."
Samora Cotterell
Hospitalist, Jackson Memorial Hospital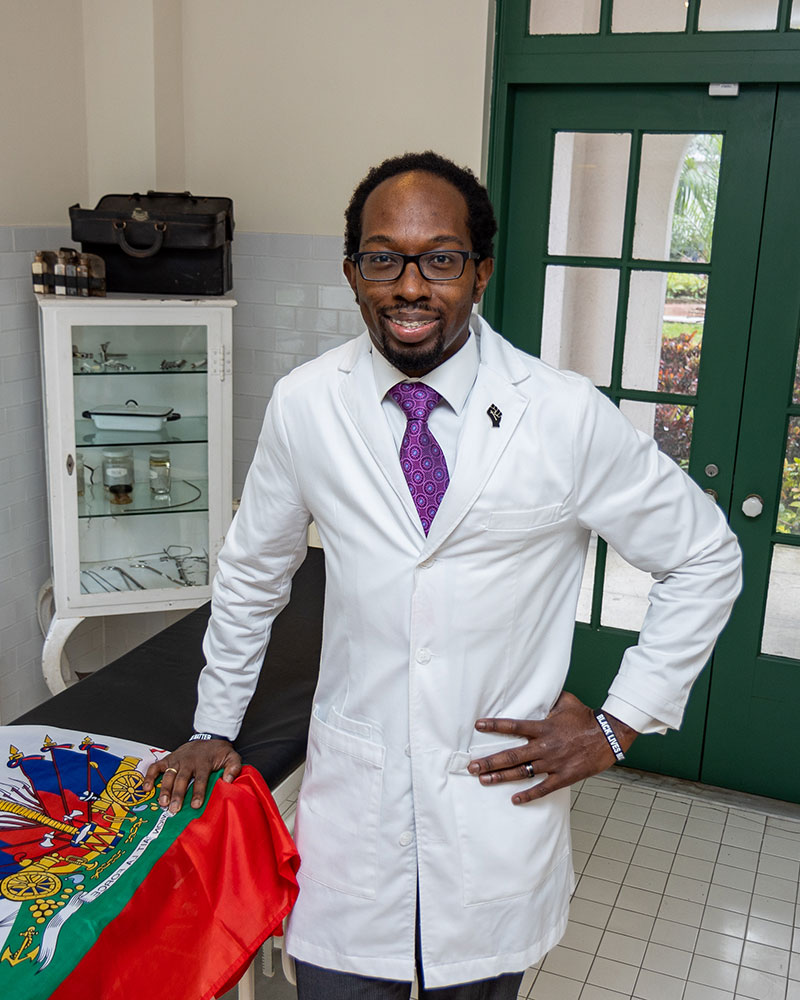 Dr. Inaki Bent isn't only just a doctor at Jackson Memorial Hospital, but he was also born there. When he was a medical resident at Jackson Memorial Hospital, he was the only physician of Haitian descent in his unit. Being fluent in Haitian-Creole has helped Dr. Bent close communication gaps, which has led to improve the overall outcomes of his patients. He is humbled and honored to be able to provide care to people in our community and to treat patients that he knows from his neighborhood.
Growing up in Miami's inner city, he has a unique insight into the plight of underserved communities, so it's important to him that he gives back to his community. Dr. Bent goes back to his high school to speak with and mentor students that grew up similar to him. He wants other young black kids to know that there are opportunities for them to succeed so long as they're willing to work hard.
"It feels fantastic to be able to work in the community that helped shape me. Without their sacrifices, I wouldn't be where I am today. I'm standing on the shoulders of my ancestors before me, and I'm doing my part in helping lift up the community, so they can one day accomplish more."
Inaki Bent
Attending Physician, Correctional Health Services, Jackson Memorial Service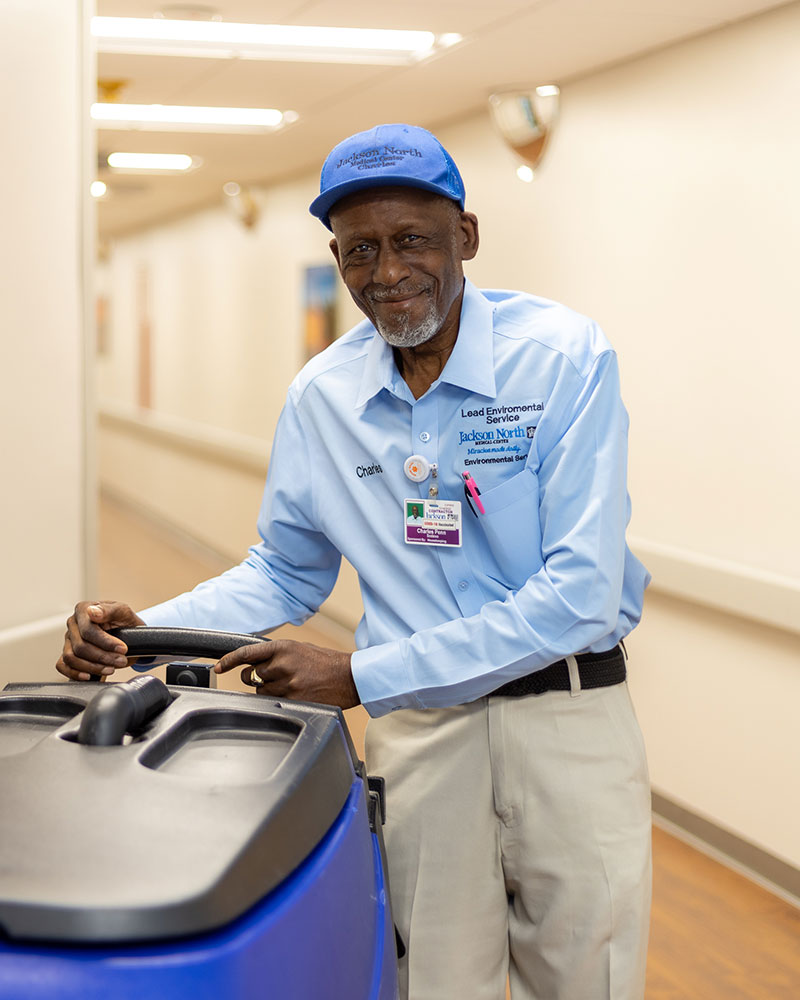 To Charles Penn, the story of black history is one of triumph and overcoming the odds. He's been working at Jackson North Medical Center since 1978 when it was Parkway Regional Medical Center, but before working at Jackson, Charles had been homeless for a little over a year. He uses that as motivation every day. He strived to get back on his feet and continues to work hard today to thank the people that allowed him to work in the same place for more than 40 years.
During his lifetime, he's seen how far the black community has come. They once struggled mightily to be recognized, but now they're accomplishing many feats that once seemed impossible.
"Black History Month means a great deal to me. I think back on the discrimination and injustice the Black community endured. Our story is one of perseverance and determination; we haven't allowed the cruelties of the world to dictate our paths to success. I'm 72, and I've witnessed my fair share of mistreatment because of the color of my skin, but I never let that stop me from continuing to move forward. Here I am working in the same place for more than 40 years. I've built a strong family at Jackson North and truly feel loved and appreciated by everyone I work with."
Charles Penn
Environmental Services, Jackson North Medical Center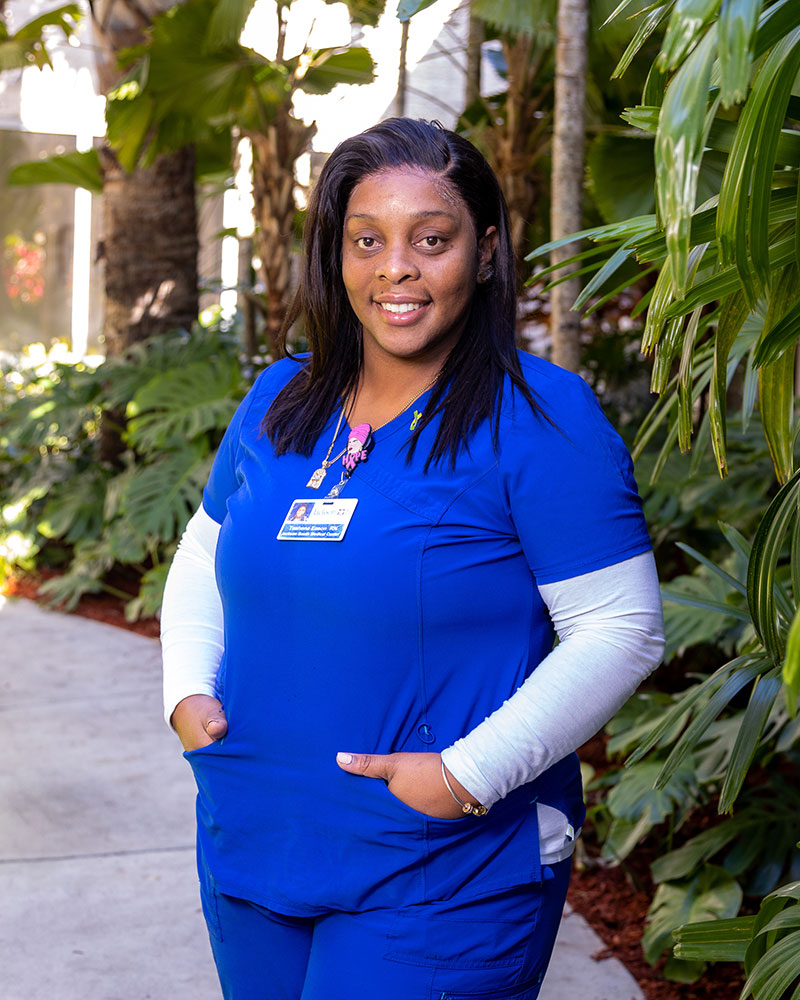 Tashena Eason works as a nurse in Jackson South, and as a black woman, she relates with and understands the patient population that she tends to. Working in her community has allowed her to relate to their issues, and this insight helps her care for her neighborhood. She sees all of her patients as part of her extended family and only provides them with the best experience and care, as she would want someone to do for her or her family.
"For me, Black History Month is a time to rejoice in our communities' accomplishments and reflect on my African-American culture. I believe it's important to educate the next generation about the history of our people and their traditions."
Tashena Eason
Registered Nurse, Post-Surgical Unit, Jackson South Medical Campus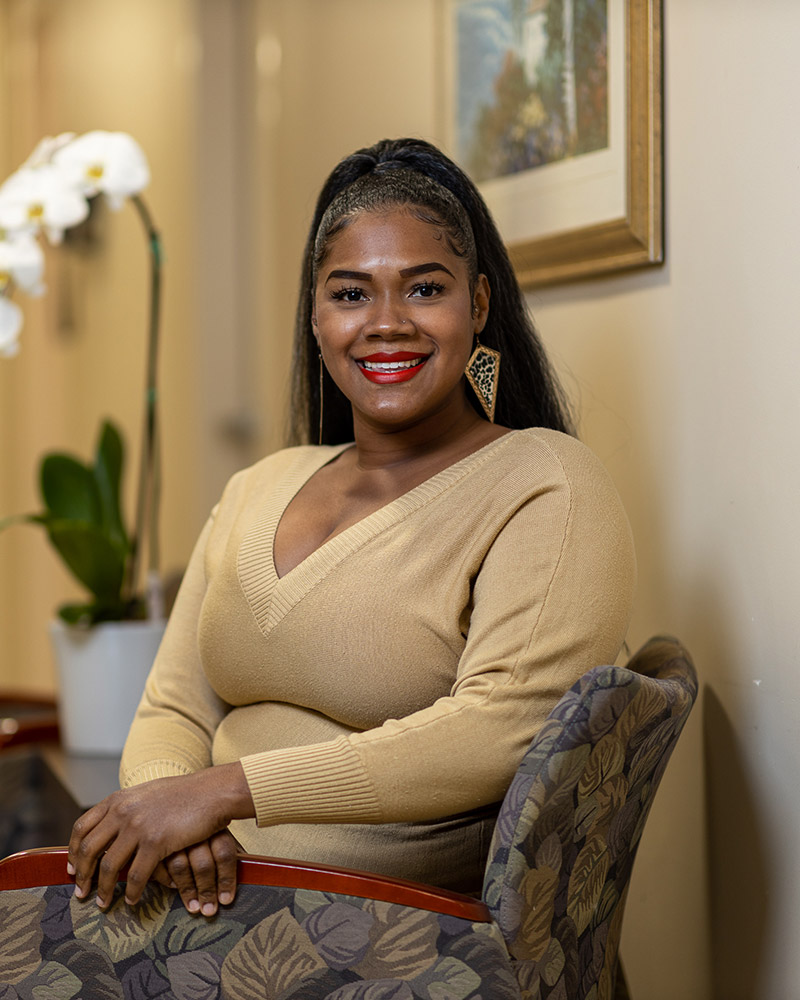 Alicia's family is from Trinidad and Tobago with ties to Barbados. Her heritage has played a large part in who she is today. She was born in New York but raised by her mom in Miami Beach. Alicia's mom is her hero and role model. One of her favorite memories is eating fruits, nuts, and cake with her mother and grandmother to mark the celebration of Christmas. This tradition began with her grandmother who would eat fruits, nuts, and cake in Trinidad and Tobago when they were considered a delicacy.
Alicia's humble childhood has allowed her to put herself in other people's shoes. Whenever she sees someone that may need help, she's always there to offer them her assistance in any way she can. To her, it's only fair that she help her neighborhood because her mother was always there to help her.
"As a mom, I want my daughter to know that she can accomplish anything she wants. In the past, black people were prohibited from working in certain fields; however, people like Barack Obama and Kamala Harris are two examples that there are no color barriers she can't overcome."
Alicia Rodriguez
Executive Assistant, Jackson South Medical Campus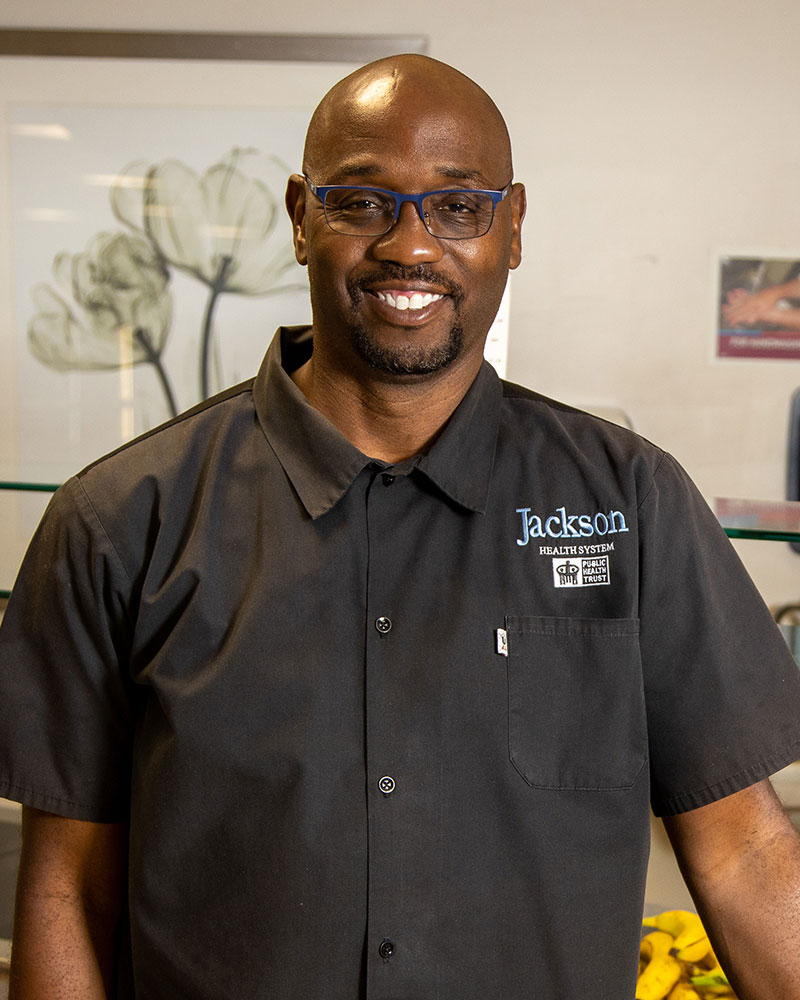 Originally a native of Mississippi, Willie would grow to call Miami home. As a member of the Jackson Family, he does his part in helping the health system and loves that he's able to interact and help patients in any way possible. It gives him a sense of fulfillment to support his community.
Family is an important aspect of Willie's life, and he feels like the people and patients that he encounters at Jackson South are extended members of his family. This sense of family comes from his parents. When he was a boy, they did whatever they could to support each other and help out fellow neighbors and friends. This is what he identifies most with as a black man is a sense of being part of a larger family.
"Black History Month is a time of rejoicing, celebrating, and thanking those people who came before me for giving me hope and allowing me to dream big."
Willie Mosby
Nutrition Worker, Dietary Services, Jackson South Medical Center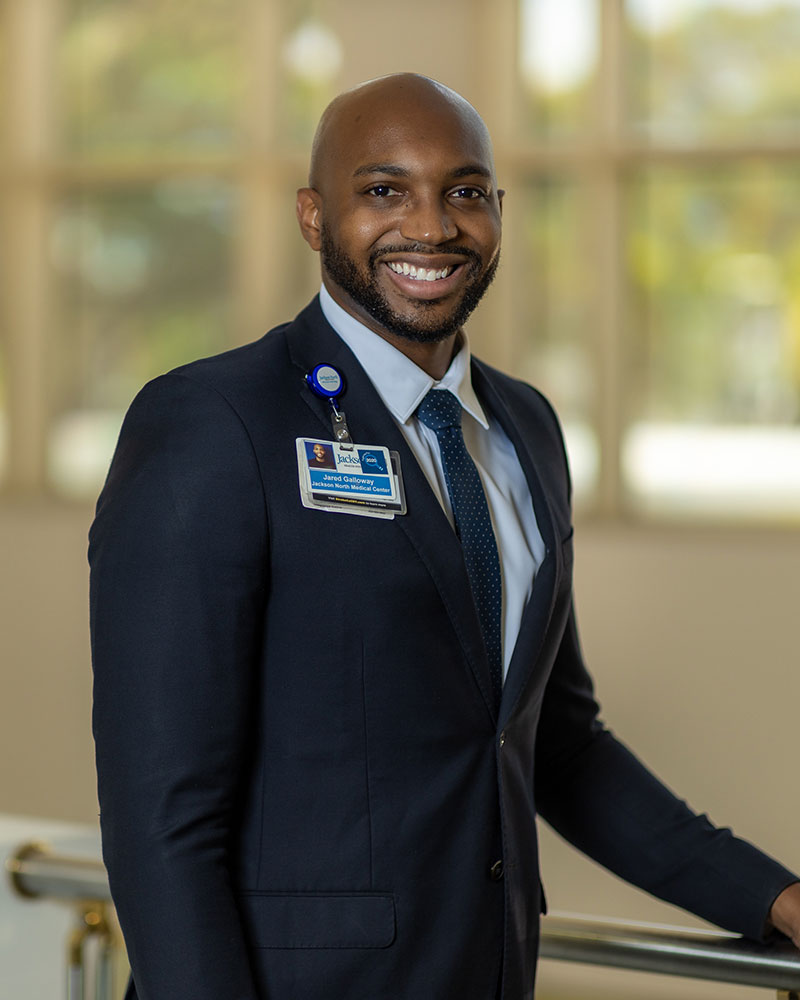 Originally from Phoenix, Arizona, Jared was raised in Miami and attended North Miami Beach Senior High School. Growing up, he was familiar with Jackson North, but being able to work there has been an impactful part of his life. Working in his community has given Jared a sense of purpose, he takes pride in being able to support the area where he was raised.
As a black man working in a predominantly black neighborhood, Jared can relate to the patients who grew up in his same neighborhood. He finds it easy to establish bonds with the people of Jackson North due to their similar kinship.
"Black History Month is an important time to highlight the contributions Black Americans have made to our country. We must remember that black history is also American history, both the blemishes and successes. We wouldn't be where we are today without the black leaders that fought and for freedom and equality. We owe it to them to honor and thank them for their sacrifices."
Jared Galloway
Director of Engineering Services, Jackson North Medical Center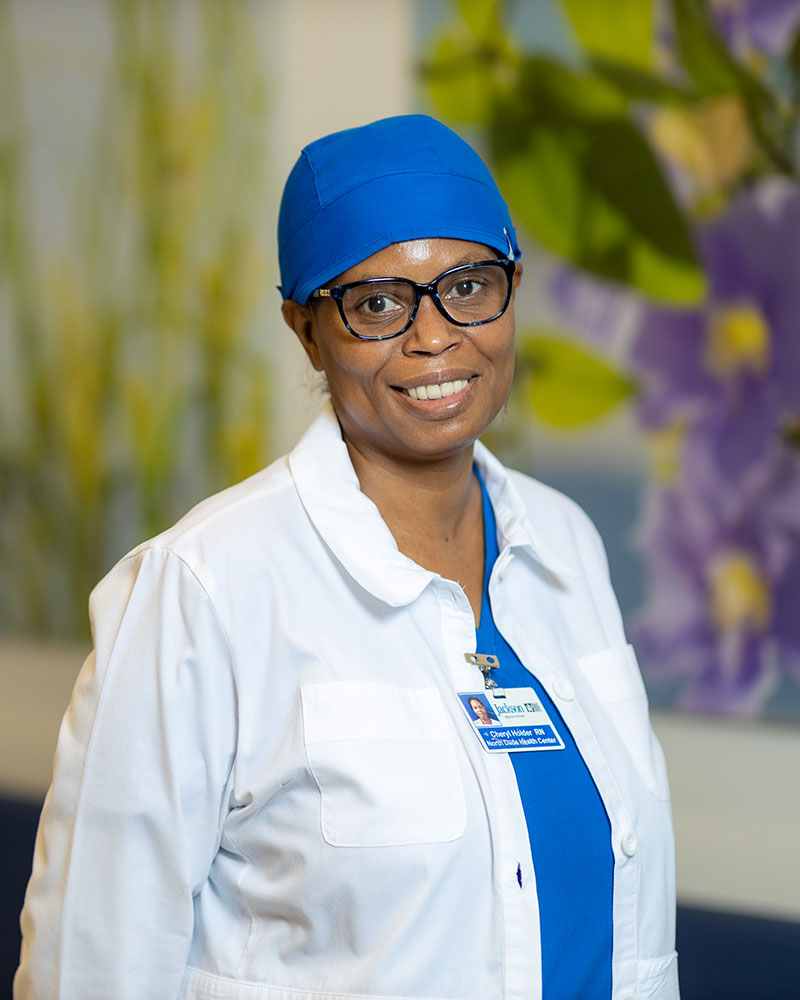 Cheryl Holder was born in Trinidad and Tobago and later moved to South Florida. However, she hasn't forgotten her heritage and has fond memories of celebrating Carnival and Trinidad and Tobago's Independence Day. She and her family get together during the holidays to enjoy her mother's authentic Trinidad cooking.
Cheryl's mother and grandmother are her role models. Their hard work and dedication to their careers continue to inspire her every day. She believes these are characteristics that describe the black community.
To Cheryl, celebrating Black History Month is celebrating the story of the black community, a story of how a group of people overcame adversity and rose above their difficulties, misfortune, and suffering, and in turn, helped shape the identity and character of a nation.
"So I say to you, my friends, that even though we must face the difficulties of today and tomorrow, I still have a dream. It is a dream deeply rooted in the American dream that one day this nation will rise up and live out the true meaning of its creed: We hold these truths to be self-evident, that all men are created equally." ~ Martin Luther King Jr.
Cheryl Holder
Register Nurse, North Dade Health Center