Jackson Rehabilitation Team Helps Man Walk & Recover after Traumatic Brain Injury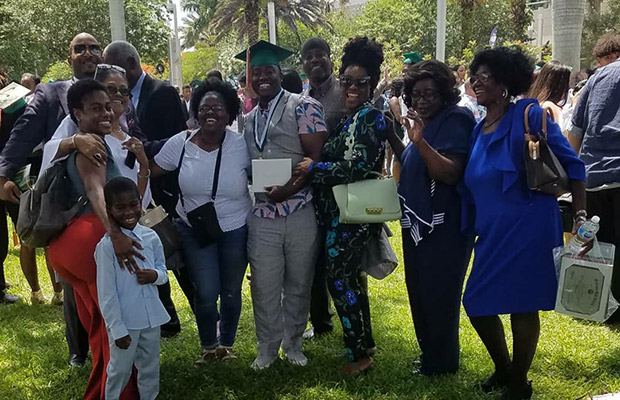 When Charlene Helne received the phone call that her then 20-year-old son, Tyrique Lindsay, had been hit by a car while crossing the street, she immediately thought the worst.
The severity of Lindsay's accident often results in multiple body and organ injuries. However, in this case, the only part of his body that was critically injured was his brain.
Lindsay was taken to a nearby hospital in critical condition. His doctors told Helne those first few days would determine if he would survive. She leaned on her faith and her church community for support.
"It was the most horrific three days of my life," Helne said. "I didn't know all that lay ahead of us."
Lindsay, who lives in Broward County, spent five days in a coma. After 45 days in the hospital, Helne immediately requested her son be transferred to the inpatient rehabilitation center at Ryder Trauma Center at Jackson Memorial Hospital.
Since then, Jackson opened the Christine E. Lynn Rehabilitation Center for The Miami Project to Cure Paralysis at UHealth/Jackson Memorial, one of the country's premier facilities for patients recovering from traumatic brain injury, spinal cord injury, cancer treatment, and other complex conditions.
"I grew up in Miami, and I always heard that if you're severely injured, you need to go to Jackson Memorial Hospital," Helne said. "I knew the best chance for my son to get the best care for a 100 percent recovery was at Jackson."
Comprehensive Approach for Rehabilitation
When Lindsay arrived at Ryder Trauma, he met his new doctor, Gemayaret Alvarez Gonzalez, MD, medical director of Brain Injury Medicine Service at the Lynn Rehabilitation Center and Brain Injury Medicine Fellowship Program Director for the Department of Physical Medicine & Rehabilitation at University of Miami Miller School of Medicine.
Helne says Dr. Alvarez is her son's "guardian angel."
"Tyrique arrived at Jackson with a severe traumatic brain injury and had a tracheostomy, as well as a feeding tube," Dr. Alvarez said. "He was severely impaired, agitated, unable to speak, and paralyzed on the right side of his body."
Lindsay was admitted to a brain injury service at Jackson, where he received comprehensive interdisciplinary rehabilitation care involving physical, occupational, speech, and neuropsychology services, in addition to 24/7 nursing and physician care for six weeks. He had to relearn how to swallow, eat, and walk.
"The support Jackson provides is more than medical. They provide emotional and mental support to help their patients overcome their medical challenges, and I don't think any other hospital does it better," Helne said. "From the doctors to the nurses, to the therapists, to the janitors, to the linen suppliers – they were all so helpful and caring. The doctors treated my son as if he was their own flesh and blood."
Helne still gets teary-eyed remembering the day Lindsay said his first words after the accident.
"The speech therapist called me and said, 'Charlene, I have someone who wants to talk to you,'" Helne recalled. "The first words he said were, 'I love you, Mom.' I remember just being overwhelmed by emotion. His entire medical team was in the room with him – Dr. Alvarez, his physical therapists, his occupational therapists – everyone was present for that moment."
A few weeks later, she watched as four physical therapists surrounded her son, cheering him on as he took his first steps.
"A patient's support system is extremely important," Dr. Alvarez said. "Charlene is very involved in his care and is his constant advocate. When you have a team that is focused and invested in recovery, miracles happen."
Tyrique's Future
It's been more than two years since he was discharged from the hospital, and Lindsay is talking, walking, and running. He has returned to school, where he is pursuing a double major in graphic design and music production, while also working a part-time job.
In March, Lindsay had his trach tube removed but still struggles with right-side arm weakness, and his cognitive processing still requires extra time and effort, which is common for traumatic brain injury survivors.
"It's hard just having to work on doing the little things, the most basic things, like brushing your teeth with your right arm, picking up items using the weak arm. It requires focus," Lindsay said. "After the accident, it took me a while to readjust myself and learn how to use my body like I used to."
Despite the challenges and continued work ahead, Lindsay has exceeded expectations in his recovery.
"Although Tyrique has persistent deficits, he surpassed expectations and continues to persevere," Dr. Alvarez said. "I hope that he continues to progress and evolve and that he continues to be an inspiration to himself, his family, and our community."