Man Injured During Traumatic Car Accident Receives Lifesaving Care at Jackson South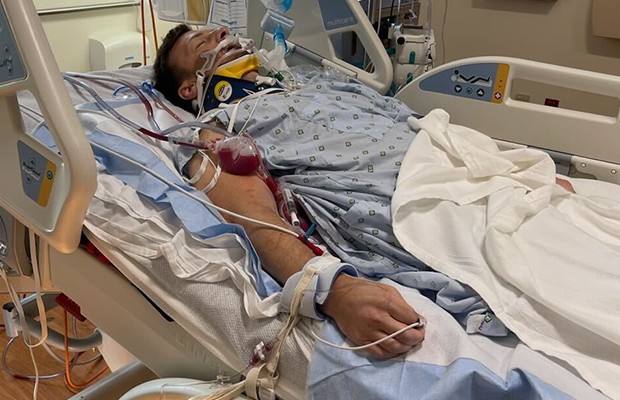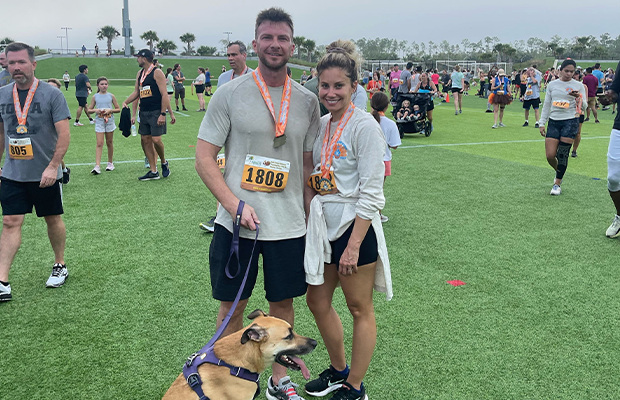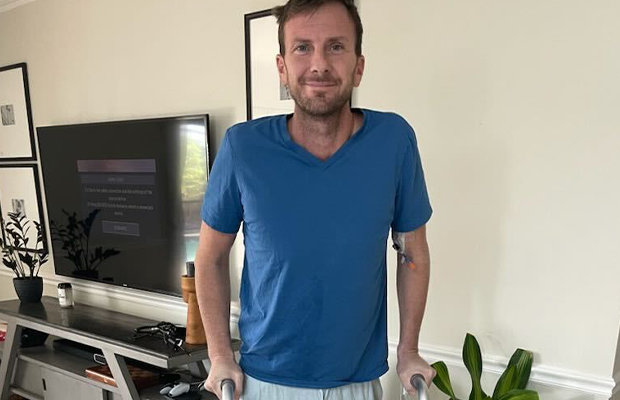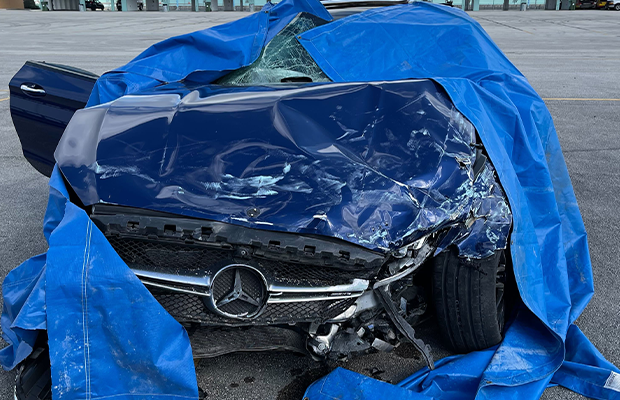 By: Miranda Torres
When Jamie Schutt, a Naples, FL native, arrived at Homestead-Miami Speedway for a work event on April 1, 2022, he never imagined he would be fighting for his life just a few hours later.
As an associate for Porsche and long-time car aficionado, Schutt, 39, was familiar with the thrills of racing. While at the speedway, he was given a chance to race around the track with a co-worker. Schutt was enjoying his view from the passenger seat when the car's breaks overheated, slamming him and the driver into a wall at 100 miles per hour.
After scrambling to get himself out of the vehicle and assessing the driver's injuries, Schutt fell unconscious. He was immediately airlifted to Ryder Trauma Center at Jackson South. While Schutt initially felt no pain due to the shock, his situation proved to be dire.
"I've been in the auto industry my whole life so I'm obsessed with cars; it's just what my brain knows," Schutt said. "I never could have expected this to happen to me."
After being admitted to Jackson South Medical Center, Schutt's physicians and caregivers determined he was bleeding internally, had abnormally low blood pressure, and had developed hemorrhagic shock.
He was rushed into surgery, with his first procedure  conducted by Jonathan Meizoso, MD, MSPH, a UHealth – University of Miami Health System surgeon at Ryder Trauma. "Jamie was very sick when he came in. In fact, he was in the "sickest" category of patients that we see in the trauma center, in a state known as "hemorrhagic shock," says Dr. Meizoso of Schutt's initial condition upon arriving at Ryder Trauma. "We quickly made the decision to take him to the operating room for emergency surgery based on these findings."
Dr. Meizoso performed a damage control operation, focusing on controlling Schutt's bleeding and contamination from his small intestine and colon, which had ruptured. In all, three portions of small intestine and a portion of the colon were removed.  Schutt's abdomen was left temporarily open with a protective dressing, with plans to come back to the operating room after his bleeding was under control and shock had improved.
After his initial surgery, Schutt regained consciousness and learned how severe his injuries were.
"It felt like the rug was pulled out from under my feet, I was in complete disbelief," he said. "I had no idea the extent of damage that had happened to me. I thought I would be out of the hospital in a week tops."
The following day, Joyce Kaufman, MD, a UHealth surgeon at Ryder Trauma, finished the operation that Dr. Meizoso started and prepared Schutt for the next round of procedures, which focused on his shattered pelvis. During the second day of surgery, additional parts of his small and large intestine were removed.
In order to prevent any further damage while Schutt waited for his pelvic reconstruction surgery, the orthopedic team screwed large water bags into his knees and shins to keep his legs completely still. Schutt had 19 screws permanently implanted in his pelvis to fix the damaged area.
He remained non-weight bearing for eight weeks, meaning he could not walk at all, causing him to lose 30 pounds and develop muscle atrophy. Schutt then underwent rehabilitation therapy to learn how to walk again in order to get back home to his wife and family in Naples.
He continued to receive care at Jackson after he was discharged, commuting from Naples weekly for his appointments. Thanks to his healthy lifestyle and the comprehensive care team at Jackson South, Schutt was able to get behind the wheel of a car again three months after his accident.
He completed his outpatient physical therapy five months later, and is stronger than ever. His new routine includes daily cardio and muscle recovery workouts, along with being more conscious of his diet.
"If this had happened in any other city, there would have been a different outcome," Schutt said. "It's because of Jackson and their experienced trauma team that I'm not paralyzed or dead."
Despite being told there was a 15 percent chance he would never walk again, Schutt and his wife completed a 5K race in November, an annual tradition of theirs spanning six years.
"I am very thankful and appreciative of everything they have done to get me to this point again," he said. "I'm in the best shape I've been in so many years thanks to my doctors, therapists, and nurses. I can 100 percent say Jackson is the reason why I'm here right now."
Jonathan Meizoso, MD
Joyce Kaufman, MD