Man's Life Saved After First-Of-Its-Kind Neurosurgery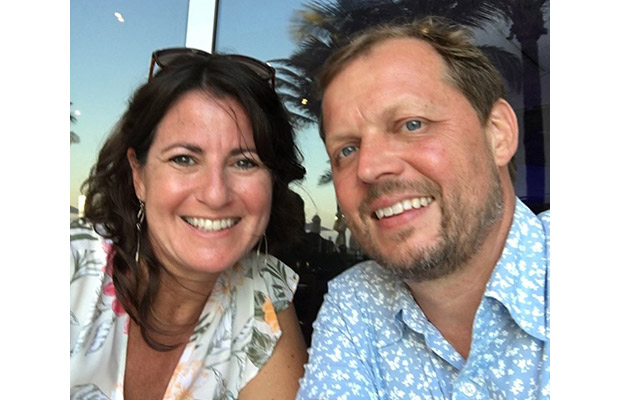 Vero Beach resident Brian Bedard is a contractor who is used to working long days in high-stress environments. But in October 2018, a splitting headache – unlike anything he'd ever experienced before – forced the 46-year-old to return home early from work.
After seeing her husband suffering for six hours, his wife grew increasingly concerned and drove him to their local emergency room, where a brain scan detected a ruptured aneurysm.
Due to the location of the aneurysm, which was close to deep, critical vessels of the brain, a neurosurgeon at his local hospital both recommended Bedard be airlifted immediately to Jackson Memorial Hospital in Miami, where he could seek specialized intervention from Robert M. Starke, MD, a University of Miami Health System neurosurgeon and neuroradiologist.
"Brain injuries had never occurred before in my family," Bedard said. "At the time, I wasn't sleeping enough, was overworked, and under a lot of stress. I think all of that factored into the aneurysm."
When Bedard arrived at Jackson Memorial, doctors performed a series of tests to confirm that he had a rare aneurysm located on his basilar artery, which is part of the blood supply system for the brain and central nervous system.
"Several blood vessels supplying key areas of the brain were coming out of the sides of the ruptured artery, so we had to find a way to treat Brian without blocking the other blood vessels," Dr. Starke said.
Because of the location of his injury, Dr. Starke could not use a regular stent due to the increased risks for strokes post-surgery. However, there was a new stent that he was studying that was already being used in Europe. This stent has a surface modification to decrease the risk of stroke or clots.
He determined Bedard would benefit greatly from the flow-diverting stent. However, it hadn't been approved by the Food and Drug Administration (FDA), so Dr. Starke applied for a compassionate use exemption that would allow him to proceed with surgery.
"The stent can redirect the flow of blood while reducing the risk of stroke," Dr. Starke said. "The special coating on the stent helps prevent the formation of blood clots that can travel to the brain while the aneurysm is being treated."
The days leading up to the surgery seemed to drag on for Bedard. He was not concerned for himself but rather for his children and wife back home in Vero Beach. He spent a week sitting up in a hospital bed, unable to lay down, sneeze, or move quickly because of the pain he was in.
Bedard's sense of humor helped him get through those long days in the hospital.
"It was almost thrilling waiting for the FDA approval and the surgery," Bedard recalls. "Waiting for everything to happen was almost like being on a roller coaster that was constantly going up with no drop in sight."
When the FDA finally granted compassionate use for the stent, Bedard immediately underwent surgery, and Dr. Starke became one of the first doctors in the United States to place the surface-modified, flow-diverting stent in a patient's artery.
The surgery was a success, and Bedard made a full recovery.
Initially, Bedard was not fully aware of the gravity of his situation. He recalls when his nurses and medical staff told him how lucky he was to be alive, and he credits them for getting him back home to his family.
"I've kept track of Brian's progress over the last three years, and his brain vessels look almost normal," Dr. Starke said. "It is hard to locate the stent in his brain images, and the aneurysm is completely gone."
Since Bedard's case, the Pipeline Shield flow diverting stent has received FDA approval, and Dr. Starke has successfully used it to treat more than 25 aneurysm patients.
"If it were not for Dr. Starke, the nurses, and the ancillary team that cared for me, my outcome could have been different," Bedard said. "I was very fortunate to be transferred to Jackson Memorial, and South Florida is lucky to have a world-class team of neurosurgical experts in their backyard."