Stroke Awareness Month: What All Black Americans Need to Know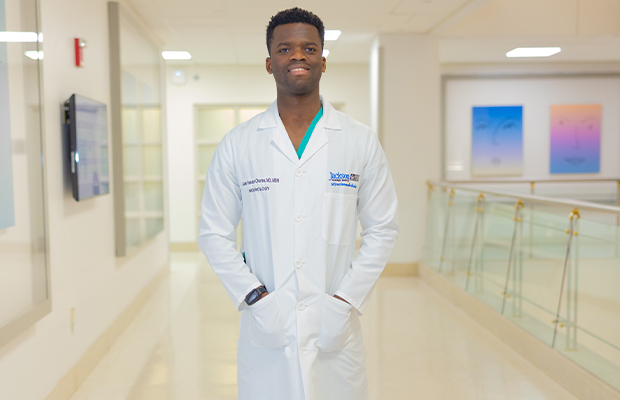 By Jude 'Hassan' Charles, MD, MSHI
Every 40 seconds, someone in the United States has a stroke, and about every three minutes, someone dies from one. Black Americans are a large percentage of the latter population, as they are 50 percent more likely to have a stroke compared to their white adult counterparts, according to the U.S. Office of Minority Health.
As a stroke specialist-in-training, in my third year as a neurology resident at Jackson Memorial Hospital, I witness the devastating reality of these figures, the disparities in care, and the risk of stroke and permanent disability every day.
One of the trickiest parts of this disease is the time sensitivity. The only way to minimize the damage of a stroke is to get medical care from a team of specialists immediately. Every minute that a stroke goes untreated; millions of brain cells are dying, leading to severe disability and/or death. Once brain cells are gone, we do not have the science or technology yet to bring them back.
This May, as we recognize Stroke Awareness Month, I want more people to know the signs of a stroke, understand the importance of getting immediate care, and feel empowered to advocate for that care.
What is a stroke?
A stroke is a brain attack caused when blood supply is blocked from the brain or when a blood vessel bursts in the brain. As one of the leading causes of death in our country and a leading cause of long-term disability, it can leave people with both severe mental and mobility challenges.
What are signs of a stroke?
One of the easiest ways to remember signs of stroke is to remember the acronym BE FAST. Here's what it stands for:
B – Balance; you may have trouble with balance or coordination
E – Eyes; you may have blurry or double vision or lose vision in one eye
F – Face drooping
A – Arm weakness
S – Speech difficulty
T – Time to call 9-1-1
While these are the major signs of the most common type of stroke, African Americans often also experience a different type of stroke. Therefore, you may experience different symptoms, including:
A sudden, massive headache without known cause.
Unexpected extreme dizziness.
Vomiting, especially if experienced with any of the above symptoms.
How can I prevent a stroke?
Preventing a stroke is a complicated issue because there are multiple health conditions that can affect the likelihood of experiencing one, such as high blood pressure, diabetes, and obesity. It is important to see a primary care doctor regularly in order to stay on top of these kinds of medical issues.
The most important thing you can do to prevent a stroke is to eat healthy. This is not about the calories, but about the types of foods you are eating, which should include a lot of fruits and vegetables. Exercising several times a week and trying to move frequently throughout your day can also help keep you healthy.
Battling Bias and Racism in Health Care
As a person of Black and Haitian descent, I have personally experienced racism when seeking care. Facing implicit and explicit bias in healthcare settings is possible. Despite this, when confronting a stroke or other illness, the most important thing you can do is seek care from the nearest hospital or emergency room.
Do not be afraid to advocate for yourself or a loved one. You know your body best, and if you are experiencing worrisome symptoms that could be a stroke, act accordingly until a stroke specialist or neurologist rules it out.
If you feel that a doctor is not taking your concerns seriously, dismissing your symptoms, or you simply feel that their diagnosis does not match what you are feeling, respectively ask to see a specialist or get a second opinion from another doctor.
We can all make a difference by taking our health seriously and encouraging others to do the same, adopting healthy habits, and seeking care immediately if you or someone you know may be experiencing a stroke. Remember, never be afraid to advocate for yourself or your loved ones.
Jude 'Hassan' Charles, MD, MSHI is a third-year neurology resident at Jackson Memorial Hospital. He will be going on to specialize in stroke at Massachusetts General Hospital of Harvard Medical School and in interventional neuroradiology at the Cleveland Clinic Foundation. Dr. Charles is passionate about neutralizing healthcare disparities and taking high-quality, evidence-based health care to rural and underserved populations.