Top 10 Questions to Ask Your Physical Therapist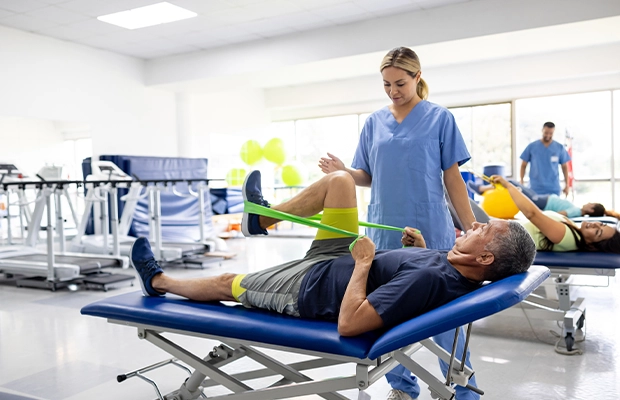 By Kayla C. Williams, PT, DPT, AIB-VRC
When a patient faces injury, illness, or surgery, they may require physical therapy (PT) to help. As physical therapists, our goal is to alleviate pain, increase a patient's mobility, and strengthen weak muscles.
At Jackson North Medical Center, we empower all our patients so they can reach personal goals and achieve the best possible outcome. To get ready for rehabilitation therapy, here are 10 questions to ask your physical therapist.
1. What does a typical physical therapy session consist of?
During your first session, the physical therapist will perform a thorough evaluation to understand your primary concerns, get an understanding of your medical history, and assess your r muscle strength, mobility, and balance.
2. How often will I need to come to PT?
During the evaluation, your therapist will consider the referring doctor's recommendation, their assessment of your current condition and ability, and your daily schedule to create the best therapy schedule.
3. What are my goals with PT?
During the initial evaluation, you should share how your injury has impeded your physical abilities and what daily tasks you are struggling with; this will help your therapist outline the goals to work toward during future therapy sessions.
4. How should I expect to feel after PT?
A critical component of rehabilitation is to exercise and strengthen muscles, which may leave you feeling sore. However, the muscle soreness and discomfort should not impede you from your daily activities.
5. What are some exercises I should do at home to help with my rehabilitation?
The physical therapy team will provide you with exercises you can do at home in between sessions in order to ensure progress is being made. These vary depending on your injury and physical capabilities.
6. Do I need to purchase special equipment to complete my workout or exercise at home?
No – your physical therapist will tailor your at home exercise routines based on the equipment you have available at home.
7. Are there movements or activities I should avoid or prioritize?
This varies depending on your injury, and where you are in your rehabilitation journey. It's important to ask this question every week, as your physical therapist may encourage increased movement as you progress throughout rehab. Similarly, there may also be movements that you may want to avoid until you've had adequate time to heal.
8. When will I get better?
Your physical therapy team can provide a general outline based on their experience and research, but a lot depends on how consistent you are with your sessions and at-home exercises.
While we cannot say exactly long it will take, we will track and monitor your progress to ensure we are moving in the right direction and seeing change.
9. Should I use an ice pack or a heating pad at home?
Many patients relief from using heat or ice after therapy or after doing exercises at home. Ice has been shown to reduce inflammation and pain, and can help with muscle soreness. Heat is a natural muscle relaxer and can increase blood flow to a region of the body.
10. Do I have to continue my exercises once my designated physical therapy sessions are over?
Patients should work with their physical therapists on important exercises that they can continue to do in order to maintain their strength and mobility and minimize pain.
Kayla C. Williams, PT, DPT, AIB-VRC is a physical therapist at Jackson North Medical Center and certified in the American Institute of Balance Vestibular Rehabilitation and Concussion Management. Jackson North Medical Center offers inpatient and outpatient physical therapy, occupational therapy, and speech therapy for children and adults. They also have therapists who specialize in lymphedema therapy, vestibular and concussion conditions, Pelvic Floor Dysfunction, and LSVT BIG and LOUD therapy for patients with neurological conditions such as Parkinson's disease.