What is music therapy and how is it used at Holtz Children's Hospital?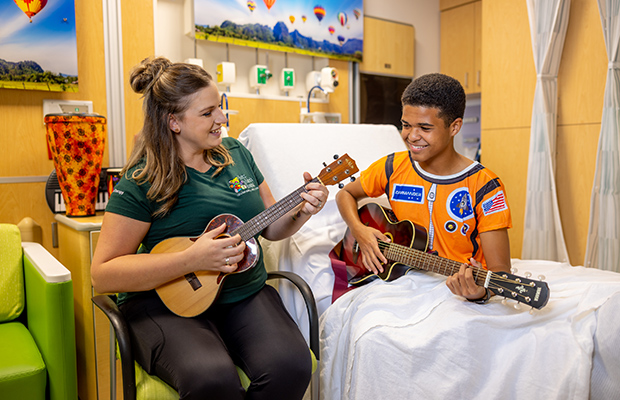 In honor of World Music Therapy Day, learn more about how our music therapists at Holtz Children's Hospital impact our pediatric patients.
What is music therapy?
As defined by the American Music Therapy Association, music therapy is the clinical and evidence-based use of music interventions to accomplish individualized goals, such as reducing stress and improving self-expression, within a therapeutic relationship by a credentialed professional who has completed an approved music therapy program.
What do music therapists do?
Music therapists are healthcare professionals who work as part of a medical team to help patients and families throughout their hospital stay.
The music therapy program at Holtz Children's provides services on numerous inpatient units, including the pediatric intensive care (PICU), solid organ transplant, medical-surgical, hematology/oncology, bone marrow transplant, inpatient rehab, and neonatal intensive care (NICU) units.
What are the credentials?
Music therapists hold either a bachelor's and/or master's degree in music therapy and have specialized training in music, psychology, neuroscience, anatomy and physiology, research methods, and childhood development. They must obtain and maintain professional certification through the Certification Board for Music Therapists.
What are the benefits of music therapy?
In addition to immediate care, a hospitalized child has additional needs that cannot always be met by the traditional medical team, such as psychosocial, emotional, developmental, cognitive, physical/motor, interpersonal, and communication needs. Music therapy can be a valuable tool to address these areas.
How do pediatric patients benefit from music therapy?
Music therapy provides patients support during IV placements, burn treatments, lumbar punctures, port access, physical and occupational therapies, and other medical interventions. It helps with pain perception, stress, and anxiety, leading to decreased use of sedation and painkillers. Music therapy also allows the patient to process and cope with what they are experiencing.
In the NICU, music therapists works with patients and their families to promote healthy development and stimulation, and allow opportunities for parent-infant bonding. Data collected at Holtz Children's shows the benefits of music therapy with premature infants, including lower and/or regulated heart rate, increased oxygen saturation levels, fewer behavioral stress responses, and improved sucking responses.
For more information about Holtz Children's and our music therapy program, visit https://pediatrics.jacksonhealth.org/services/music-therapy-child-life-services/.